One of the driving forces behind the excellent local community radio IDA Helsinki, a DJ & a producer Eric Filipus steps in for a guest mix and a chat. His captivating hypnotic set is a perfect example of how to build up a mood with a subtle interplay of tension and release. Inspiration for days.
Hi there Eric, how's life? What's been keeping you busy of late?
I'm doing well, thanks. Having more studio time over DJ gigs during the Covid-time was really energizing for a change. Yet I'm very happy to get back to playing at parties and seeing people come together for the music.
I've been searching for new music a lot and it's actually pretty weird to realize that the club related stuff has attracted me even more throughout Covid than the time before. Having all that extra time and energy to focus better has made a big difference for me, feels like I almost needed it to get some perspective on things.
Running our local community radio IDA Helsinki has also been a nice project to put energy into since we started early in the 2020.
And climbing, a lot of climbing. That's kept me sane throughout the rough times.
Can you give us your biographical details - how and when did you get started with electronic music?
Electronic music was kind of a natural next step for my teenage rock n' roll phase. I had (and still have) this secret dream of living in the 60/70's rock era and I guess electronic music filled that gap in some sense.
Witnessing the beauty of underground parties as a teenager, experiencing that freedom and rebellion caught my attention big time as it was something very new and exciting for me.
I quickly got hooked on those otherworldly sounds and the hypnotic repetitiveness of electronic music.
Can you tell us a little how you started with DJing in the first place and motivated you back then?
I remember always being the classic aux-cord guy at house parties when I was younger. I had this urgent need to plug in my ipod and share the new tracks I'd just discovered. So I guess my early DJ spark led right back then.


Things naturally led into DJing when my friend loaned me his DJ-controller and maybe a year or two later I was lucky enough to get my first proper gig booked into this small basement venue. Even though being super nervous and a bit lost in the booth I remember it being the best feeling ever. I was finally able to express myself through music and get to share my interests.
Getting to see people lose themself in the music felt empowering.
I also became more familiar with vinyl through my dad's old collection around that same time, which must have added some fuel to the fire. Visiting record stores and digging through Discogs quickly became a dear hobby for me.
Does the motivation still come from the same original source or has it changed?
The same philosophy definitely still lies there. I just love to connect with people through music, there's something very pure and magical in it.
What's changed the most is that I'm much more inspiration driven these days. I try to be as open and receptive as possible to find inspiration from everyday things.
Luckily I have this kind of child's hunger of discovering and getting excited over new things whether it's about DJing, producing music or some other creative process. I feel that pushes me forward and keeps me motivated to do what I do.
How would you describe your sound to someone who has never heard your DJ sets?
It is quite a wide range but if I'd had to pin-point it down I'd go for warm, deep and psychedelic. In a dance club environment it's mostly about hypnotic and stripped-down house and techno, occasionally with a sort of IDM touch to it.
You also probably won't see me playing a set without some strong dub and tribal elements in it. All in all, it's the timeless and not too overwhelming stuff I love the most.
Experimenting a lot with the energy of the room, tension and release plays a certain role when I balance between atmospheric and more forward driven stuff.
And not to forget my beloved partner, ambient, usually heard in mixtapes or throughout the radio waves. Though I'd love to play more ambient and experimental DJ sets live as well in the future.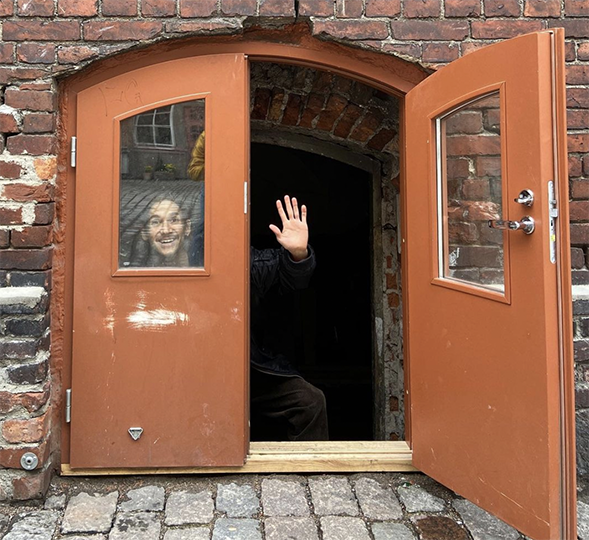 Can you tell us a little about your current musical endeavours?
I'll try to find as much time as possible on making new music, happily much more nowadays. Rearranging my studio setup quite a lot and moving more into a modular system has gotten me closer to finding and creating my own sound, which I'm very happy about.
I find the experimentation and sound design so interesting at the moment so I'm just really taking my time and enjoying the process. Of course there's a goal of publishing something decent and interesting in the near future but I try my best not to rush it.
I'm also super excited to have some DJ gigs booked so the winter season's starting to look much more promising.
What has been the most rewarding part of running the local community radio IDA Helsinki?
It has to be the warm welcome and feedback we've gotten since opening the channel and to get to work with such great people, meaning all the show hosts and our team.
Helsinki has been lacking this kind of independent non promotional channel for quite a while so it's nice to see this project can cover part of it and give an unfiltered platform for the local artists.
I wish the community around it will grow even stronger now when we can all gather again and do things physically together.
As someone who's tightly connected to the local scene - what's your take on the current state of Finnish electronic music and the scene in Helsinki?
The Helsinki scene is really alive and kicking. It feels like things are going fast forward, new venues opening, a lot of interesting underground stuff happening, talented upcoming DJs and producers popping up and more people interested in the scene moving in etc.
It's also refreshing to see different generations molding together and starting new collaborations.
Continuing on the theme - can you name a few local DJ's or artists that inspire you?
It's impossible to pick out only a few so here's a bunch of talented local people:
Trevor Deep Jr. - They deserve a big shoutout, since catching them playing at Flow Festival in the early 2010's they've been a huge inspiration for me personally. It's hard to name a better, more soulful yet deep connoisseur in the scene. They're actually just about to release a new album soon on their beloved HPTY-label and oh boy I can tell, it's sounding ace
Kaspiann - His music just gets me every time. These esthetics are pretty much perfectly summed up on his newly established label called Vala.
The whole Electronic Market collective (Kristiina Männikkö, Suski, Linda Lazarov, Emma Valtonen, Elisa Katariina) - All on top of the game in their own unique styles.
Antti Salonen - One of the best DJs in Helsinki, period. His label Avoidance is definitely worth checking as well.
Sansibar - The hard to miss brightly shining star of the spacey world of electro and techno.
all good soundsystem - Underrated digger, excellent radio host and an overall great guy. Check 'all good soundsystem radio' every second week for your spiritual morning pleasure
djrubio - Simply beautiful releases from start to finish, this guy might just be my favorite local producer
DJ Jese - A true collector and disco head. I bet you don't wanna miss him working on that rotary mixer live..
Katerina - Unique, emotional and true to it's sound productions. And a superb DJ as well, what's not to like
Samuli Kemppi - The man, the myth. If you ever feel uninspired just go and check his Studio Sessions from Youtube, god damn
Please name five records or tracks that are currently on heavy rotation?
Martinou - Rift Album
Aleksi Perälä - PHANTASIA V
Pavel Milyakov & Yana Pavlova - BLUE Album
Human Space Machine - Cycle EP
Spiritual Emphasi - Chiwax 020 EP
So the mix, can you tell us a little something about that?
I pictured this hypnotic mix with slowly drifting emotions leading back to the nightlife after a long easy phase in life. At the same time I wanted to record something that would go nicely together with the cold temperatures and dark times arriving here in the north...
I feel it came out the way that it sort of grasps the listener but doesn't give too much of a release at any certain point. Lately I've been inspired a lot by subtle and atmospheric stuff so I gathered some of those pieces together for this one.
Keeping the sound design very much in center I hope there's also interest in all the small details these tracks have to offer.
Many thanks Eric! Anything else?
Thank you for having me, it was a pleasure. Sending lots of good energy to everyone out there, hope to catch you soon on the dancefloor <3
playlist
01 - Tdel - Deep Field - Silent Season
02 - Jouem - Dazzling Light - Mojuba Records
03 - Pugilist - Horizon - Nous'klaer Audio
04 - Caldera - Body 2002 - Bokhari Records
05 - DJ Uijui - Every - Cold Blow Records
06 - Absis - Running Up Hill - Hivern Discs
07 - Vanoni - Haiken - Danza Nativa
08 - Human Space Machine - Danz7 - On Board Music
09 - Dorisburg - Gripen - Hivern Discs
10 - Klockworks - Sean - Klockworks
11 - Nali - Chance Encounters - Patterns of Perception
12 - Vanoni - Snake Dance - Ritualism Records
13 - Samuli Kemppi - Studio Session #23 - Deep Space Helsinki
14 - Luigi Tozzi & Claudio PR - Lyra II - 012
15 - Brando Lupi - Modular Unit - Dozzy Records
16 - Priori - Scn 3 - DustWORLD
17 - Na Nich - Log - Rhythm Büro

DJ profile
Eric Filipus
Location: Helsinki, Finland
IDA Helsinki | Soundcloud
DJ & Producer based in Helsinki, Finland
Hosting ''Existence Of Soundscapes'' radio show on IDA
On the internet:
SoundCloud | Instagram | Facebook | idaidaida.net