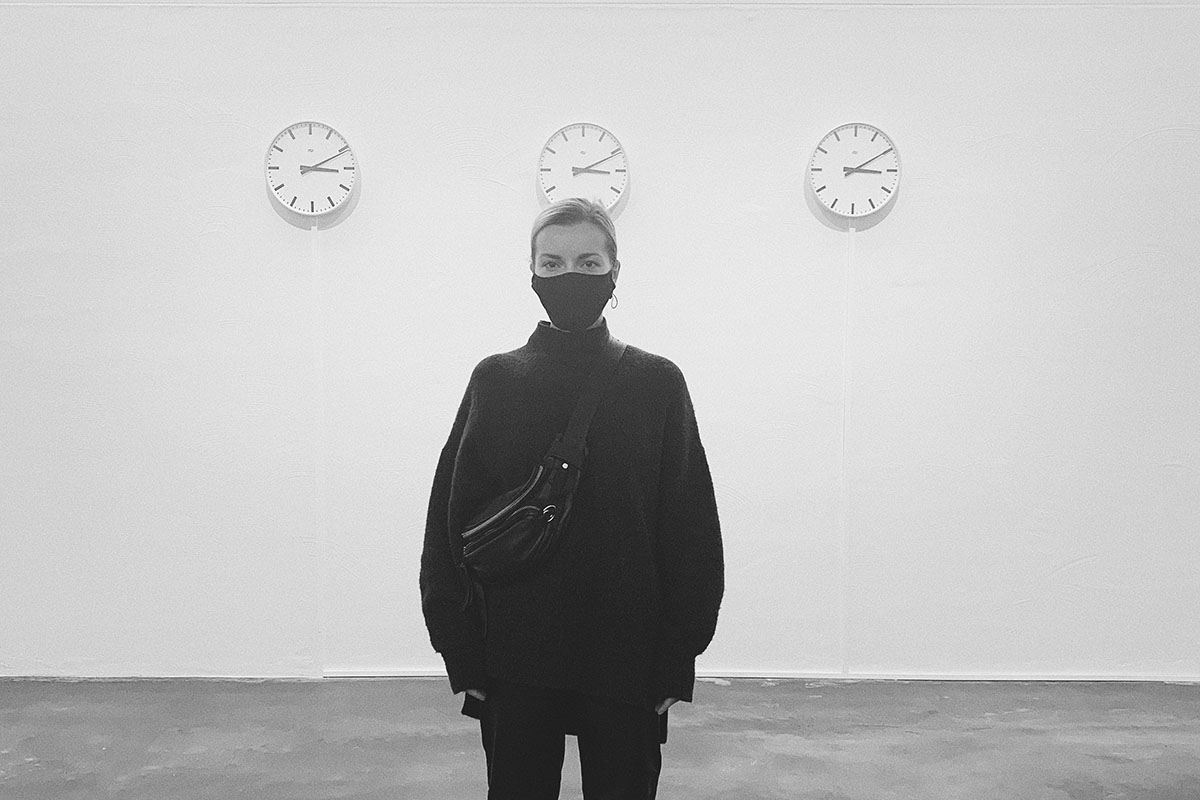 For guest mix #112 I have the pleasure of hosting Heidi Emilia, an emerging local DJ-talent. Heidi Emilia is a designer, DJ, and host of the It's Been Emotional show on IDA Helsinki. Heidi describes her sound as "emotionally driven, balancing between stripped back and atmospheric" and that's very much on point with the cosmic and atmospheric mix she recorded for DR.
Hi there Heidi, how's things? Can you introduce yourself briefly to our listeners?
I'm Heidi, a Helsinki-based designer, DJ, and music enthusiast. And things are looking pretty smooth at the moment, thanks for asking.
What's been keeping you busy of late?
The second year of my show, It's Been Emotional, just kicked off, and I have interesting guests lined up for the upcoming episodes. Also, I just played my first gig at a UG event after what feels like a too-long break. Felt ecstatic about that.
My day job as a designer keeps me quite busy in general, so with the limited free time I have for music, I'm aiming to focus more on gigs this year.
What about DJ'ing, and how did you get started?
I guess we have come a full circle from the beginning, since the first time I touched decks was arranged by you, Timo. So thank you for the introduction, encouragement, and all the tips and feedback I've gotten from you ever since. Those have helped me a lot.

When I started playing, I had no bigger intentions about DJing than just playing music with my friends while hanging out at someone's studio (we did that a lot). But the more I played, the more I got into it. And some years later, I'm here, so safe to say music kind of took over. And I consider it as a good thing.
When you select records for your sets, what's your approach like?
It all starts with where I am playing, with whom, and what time. After that, I try to put together a concept for my set, which eventually defines the selection. I'm usually terrible at sticking within one genre, so I consider genres only as rough guidelines. It's more about the emotional side that defines - what kind of mood and atmosphere I aim to create.
What have been your most memorable record finds? Any good stories?
In Reykjavik, I was browsing some local record stores in the middle of a snowstorm. Back then, I had a habit of buying my boyfriend a record or two as a souvenir from my trips. But that was the point when I started buying records for myself as well.
Yagua's Stormur was the first one, and it paints a perfect picture of that beautiful rugged Icelandic atmosphere I experienced there. Whenever I listen to it, it takes me back. And I think that is what experiencing music is at its best; it takes you somewhere else, detaching you from the current.
Name three tracks or releases that are currently on heavy rotation?
Emotional trance-oriented electro
Emotion Controller | RIGSON & NTHR1

Modern ode to classic trance from an interesting new Taiwan-based label
JIN 04 | Sunju Hargun
Basically, everything that comes out from Priori is on heavy rotation. Here's one release to mention:
Little Flower | Priori
Tell us about your show, It's Been Emotional?
I started curating It's Been Emotional in the beginning of 2021, so the second year just kicked off. The show's concept is to explore the emotional characteristics of electronic music. Each guest is free to create their own interpretation of the concept and its meaning to them.
The show started on Komunal Radio and as of April '22 the show found a new home at IDA Helsinki. A new episode comes out every four weeks.
What has been the most rewarding part of running the show?
It's been fascinating to hear the outcomes from different DJ's/producers - no episode sounds "the same" as the other, and still, something unites them. Maybe the concept also gives people a safe space to express themselves differently than their listeners have been used to hearing from them.
Listening to a heart-warming house set from a DJ that is known for playing harsh techno, those kinds of surprises have made me smile. Hopefully, others as well.
What does the coming 12 months hold for you in regards to releases, collaborations etc.?
Our collaboration with Komrad has been working really well since the beginning. It was only natural to deepen that collaboration, so I recently joined their collective. Let's see what we come up with the UK guys this year.
Can you name a few local DJ's that should be on people's radar?
So the mix, can you tell us a little something about that?
This mix gives a good overview of the type of electronic music I've been playing a lot lately – a cosmic journey blending the boundaries between atmospheric techno, electro, and trance.
Many thanks, anything else?
Thank you for having me <3
playlist
01 - MYKI - Enbalim / Tofistock
​​02 - Furious Frank - NO Escape / Mind Dance
03 - Kareem El Morr - Zoom / Molten Moods
04 - OK EG - Filament / Steeplejack Rec
05 - Facta - Scales + Measures / Wisdom Teeth
06 - Jeku - Aftermath / One Eye Witness
07 - Sunju Hargun - Chale (Original Mix) / JIN
08 - Maara - Going All The Way Up / ​​Familiar Strangers
09 - Adam Pits - Intergalactic Espionage / space•lab
10 - Konduku - Spiracle / Nous'klaer Audio
11 - Tom Place - Liberation [deep sea mixxx] / childsplay
12 - Lisene - Deep Learning / space•lab
13 - Aloka - Concave / Typeless

DJ profile
Heidi Emilia
Location: Helsinki, Finland
Instagram | Soundcloud
Heidi Emilia is a Helsinki-based designer, DJ, and creator of web radio show It's Been Emotional. Her sound could be described as emotionally driven, balancing between stripped back and atmospheric. Sticking strictly within one genre is rarely on her agenda.