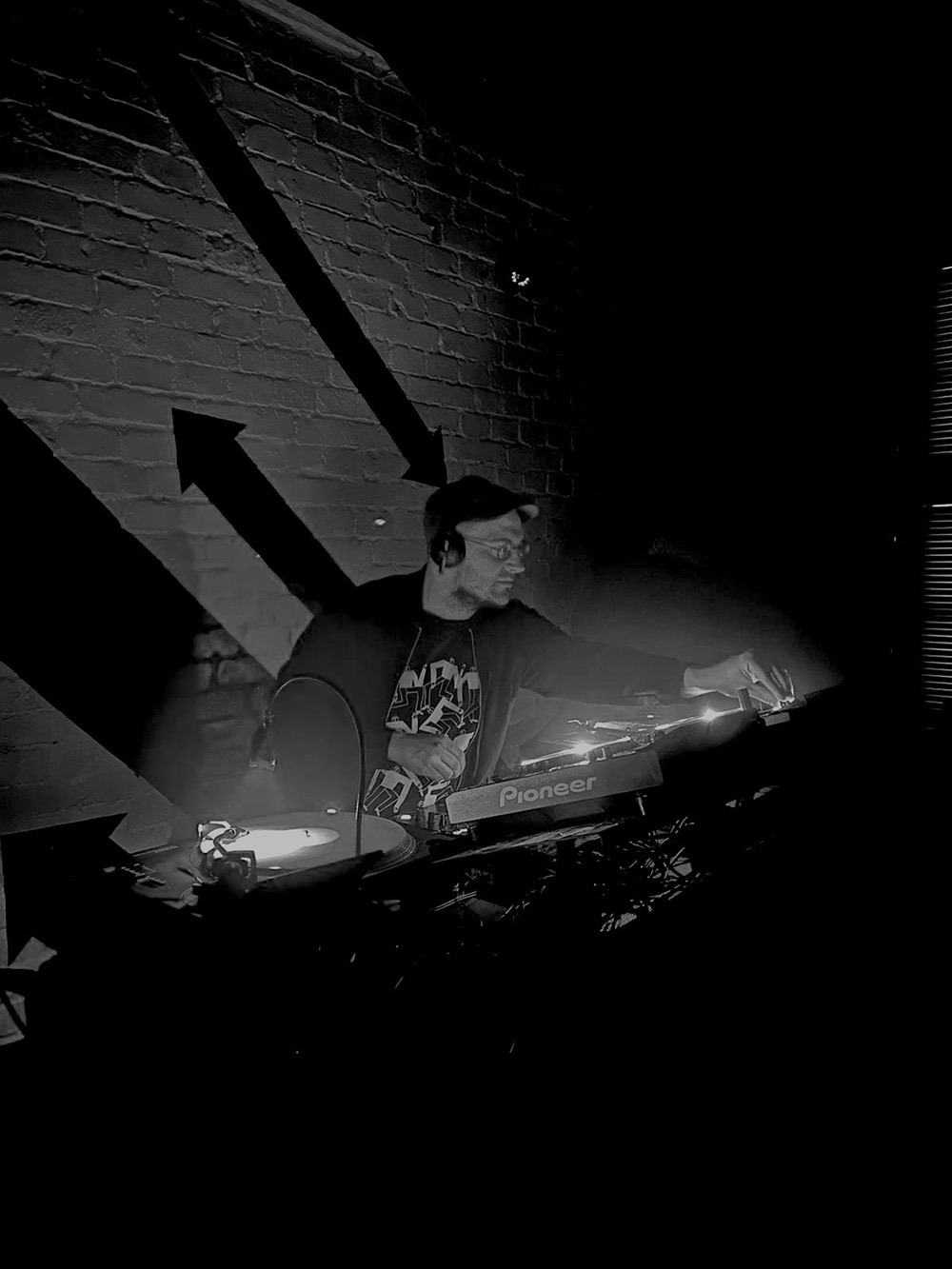 Jam "J"'s co-founding role in the record label Cold Blow, specializing in the captivating realms of obscure electro, techno, IDM, and vintage dance music from the cherished eras of the 80s and 90s, reflects a deep-seated passion for crafting sonic marvels that resonate. This fervent dedication not only materializes through the label's melticulous endeavors but also finds its harmony in Janne's occasional appearances as a DJ, seamlessly weaving together enchanting soundscapes that enthrall audiences.
While Helsinki has been Janne's home for over a decade, the origins of his journey trace back to Rovaniemi, the charismatic capital of Finnish Lapland. The symbiotic influences of these contrasting locales infuse his work with a distinctive blend of serene northern landscapes and the pulsating rhythm of urban life. Beyond his musical pursuits, Janne's unwavering quest for the perfect margherita pizza offers a tantalizing glimpse into his devotion to savoring life's simple yet exquisite pleasures, reflecting his unyielding commitment to the pursuit of excellence across diverse domains.
Hi there, how's things? Can you introduce yourself briefly to our listeners?
Ciao everyone! I'm Janne, co-founder of Cold Blow, a record label that specialises in obscure electro, techno, IDM, and vintage 80s/90s dance music. I'm passionate about curating unique and captivating sounds, and I enjoy sharing them through my label and occasional DJ sets!
I've called Helsinki my home for 12 years now, but I'm originally from Rovaniemi, the capital of Finnish Lapland. I'm also an avid pizza fanatic, always on the lookout for the perfect margherita!
What's been keeping you busy of late?
We've had the busiest year so far at Cold Blow with three 12" releases out in the first half, and several digital ones. That might not seem like much but running and managing even a small label like ours takes a lot of time and dedication, as you probably know, hah!
Luckily, there are two of us running it and I've transitioned to a 4-day work week so that leaves me with an opportunity to work on label-related tasks one day per week.
Name a few records or songs that had a big impact on you in your early days and why?
My friend and classmate in elementary school had a compilation which included early Richard D. James tune called "En Trance To Exit". That struck me as totally different from any music I had heard before!
The same mate introduced me to a lot of different styles of electronic music and around the same time I got my own stereo decks with a CD player in it. The record that was inside the CD player was 2 Unlimited: No Limits. I still enjoy some of the tunes innit and maybe my knack for simple dance music with strong synth riffs originated from that, hah.
Another early favourite tune was 808 State's "Timebomb (808 Tape Mix)" which I think was part of a cassette compilation made by my friend. "The Prodigy"'s "Experience", and especially "Music For The Jilted Generation" were both big things. Essentially, every track in the latter is solid gold, but I'll highlight the chillout tune "3 Kilos" as my early favourite.
What about DJ'ing, and how did you get started?
I bought cheap Stanton turntables 20 years ago (only because I would have had enough savings for just one Technics) because many of the releases I wanted were only available on vinyl at the time. I didn't have a specific desire for DJing but when a friend in my hometown invited me to DJ in a club series he hosted, I said yes, and it was fun!
Fortunately, my home city, Rovaniemi, is a university town with vibrant people and enough events and venues to form a sporadic but lively "scene". Those gave me the chance to DJ occasionally and learn the craft a bit.
You are an avid vinyl fan and record collector. Tell us a little about your collection and how you go about finding records to buy?
Currently, I'm more focused on selling records rather than buying new ones :) I aim to maintain my collection at its current size, which includes around 3000 records, including CDs and tapes.
I have always been into "bargain bin stuff" looking for unknown records that others might overlook! I'm also fond of well-executed reissue packages.
I'm a bit label-oriented when it comes to collecting although I've never aimed for completion. I prefer shopping new stuff online and second hand from brick-and-mortar, particularly those that may not be aware of Discogs median prices. However, a good place to dig new tunes is my own record shelf though : D
As a DJ, you're known for your extensive knowledge of music - ranging from Jazz to techno to trance and everything in between. How has your collection expanded over the years - is your approach systematic or organic?
I believe I've only purchased a handful of records solely for DJing purposes. However, looking back I can define certain eras in my record collecting "career":

From the mid-90s to early 2000s, it was hip hop, downtempo, jungle & drum n bass, IDM. From the early 00s to around 2010: old school electro, 80s synth-pop, disco and funk, boogie, electro-funk, CBS Italo & electro, dubstep.

From 2010 to around 2018: bass, techno, chicago & deep house.

Since 2018, I've explored pretty much everything mentioned above : P I don't have a system in place, that's for sure! Currently I'm digging deeper into late 80s and early 90s breakbeat, techno and house, anything made before '95 basically with danceable vibes. My appetite for the 80s electro-funk, italo disco, boogie and the sorts has not vanished, it just isn't in the forefront now.
When you select records for your sets, what's your approach like?
It all depends on the venue, time of the set and the audience. I'll keep those things in my mind but obviously the selection is driven by what I have recently enjoyed myself. In the recent year or so I have tried to build a stable selection of tunes that I bring with me whereas the years before that my sets were pretty much 80% new (to me).
Name three to five secret weapons that you almost every time carry in your bag?
Not so secret but here we go:

EDMX: Wicked Drummer


Romain FX: A Fuego


Corporation of One: So Where Are You (Hashish Dub Mix)



Ike: Euphoria



Fatal Error: Fatal Error

I just need to ask, how's your vinyl record collection organised?
I organise my vinyl record collection alphabetically by style or genre, with a few exceptions (bootlegs and edits have a separate section, certain labels and artists are next to each other if there are many).
My collection is split between two locations. I keep the smoother, experimental, and home-listening records at home, while the club-oriented ones are stored in our studio.
Name five tracks or releases that are currently on heavy rotation?
Cylob: Almost Sunset: From the Archives 94-95
Kirin - Temptation (Benedek Remixes)
Katerina: High In The Sky (Angel In The Mix)
Bleeps, Breaks + Bass - Volume One & Volume Two

Bárbara Boeing disco & house set in the Lab LDN
Who are the artists and DJ's you think deserve more attention than they get currently?
I don't think DJs need any more attention than they currently receive nowadays, hah. I might be biased, but I believe both DJ Lifegoals and Forehard create music that lives up to international standards.
Cold Blow is your label - tell us about your vision for the label and what's in the pipeline?
It does look like Cold Blow is focused on obscure 90s techno, house and IDM, with an equal balance between reissues and new music. However, it was not founded only with those styles in mind. The label will likely maintain a loosely electronic and danceable approach, but beyond that, there are no strict limits on our future output as we want to keep it diverse.
Growing up, we followed labels like Rephlex, Warp, Ninja Tune, and Planet Mu and loved the anticipation of not knowing what the next release would sound like. The plan is simply to put out music we really like and want to share (and change the world while doing it)!
As for upcoming projects, we are about to start the manufacturing phase with a two-part anthology of music created by Tony Boninsegna between 1986-1994 under various aliases, in collaboration with Musique Pour La Danse.
We are also expecting a new DMX Krew 12" single to arrive soon, and another DMX Krew album reissue is waiting for a release schedule and pressing. Additionally, we have a big compilation project underway, covering rare, forgotten, and unreleased Finnish electro. Moreover, we are working with Otto Taimela on a couple of releases: a 12" for Cold Blow and an LP for SWIMS, our experimental-minded sister imprint.
Pick one release out of the catalogue and tell us a story behind it, please?
Without "Electro Music Union, Sinoesin, Xonox Works 1993-1994" the label might have taken a completely different direction! Our friend Qwerty tipped us off about the label, Metatone, and we got in touch with Jason Adkins who ran it in 93-94.
Initially, we planned to release each 12" individually. However, two weeks after signing the agreement with Jason, we learned that another label had also contacted him. We were open for collaboration and as a result, we made the decision to turn it into a compilation, curated together with ava. records.
Cold Blow releases new material and also does reissues for forgotten gems - where do you find the music and the artists for the label?
Through Jason, we got in contact with Atonal, whose release was originally planned for Metatone but the label folded before it happened. We also connected with Dr. Rhythm, a project co-produced by Jason.
Liquid Son, which was another project involving Jason, took some time for us to consider for release, and Jason needed time to warm up to the idea of reissuing it. Interestingly, another label inquired about a potential reissue while we were discussing it with Jason.
This led to another collaborative project, this time with Musique Pour La Danse.
Tell us a good story behind one of the reissues please?
Our mutual friend (Qwerty, again), knows DMX Krew well (he has produced music with Ed) and Pete has met Ed many times throughout the years and when we had several releases under our belt we were confident enough to approach Ed for potential reissue of We Are DMX, one of our all time favourite albums!
However, I believe it was the pair of Reino slips that Pete gave to Ed's wife as a Christmas present way back that sealed the deal for us : P
What has been the most rewarding part of running the label?
The most rewarding part is the entire process of planning and crafting a release, which includes curating and selecting tracks with the artist, brainstorming and drafting ideas for artwork, and ultimately witnessing the record's release.
It's rewarding to create a product that wouldn't otherwise exist and has the potential to impact people's lives forever! I hope to develop a similar level of enthusiasm for promoting and selling records, hah.
Can you name a few local acts, events or locations that should be on people's radar?
Kätkö, 20hz, London Zoo, Otto Taimela
So the mix, can you tell us a little something about that?
As boring as it might sound, it's a reflection of two things: music I have enjoyed and played out recently and the music Cold Blow has/will put out. There's couple of tunes from recent releases and some upcoming tunes as well.
Probably wouldn't play the set in this way in a club setting but I wanted a variable mix to be enjoyable both as a listening experience and a danceable, uplifting mix. Additionally, I kept the Deeprhythms audience in mind while selecting tunes : )
Many thanks, anything else?
Thanks for having me! Catch up with you soon.
playlist
01 Detroit In Effect: Beware of the Fakers (M.A.P. Records)
02 Forehard & Larry Neverheard: Pickelhaube (Cold Blow)
03 Lhasa: Gather Like Dust (Dark Entries)
04 Genetic Genetic: I Can't Live Without My Video (Infrasonic, reissued on Cold Blow)
05 Anz: Gary Mission (Hessle Audio)
06 Wild Planet: Cabasa Cabasa (Warp)
07 Quad: Spires 'n' Towers (Casting Shadows)
08 Two Lone Swordsmen: The Bunker (Warp)
09 Forehard & Larry Neverheard: Gary49 (Cold Blow)
10 Nine-L: Houston, We Have a Problem B2 (Metatone, forthcoming reissue on Cold Blow & Musique Pour La Danse)
11 Yu Su: Melaleuca (Music From Memory)
12 MN-LTH: LOVID (Monolith Self-released)
13 Mr. Ho: Angel Number 909 (US Breaks Mix) (Klasse Wrecks)
14 DMX Krew: Up 'N Down (Super Rhythm Trax)
15 Terra Incognita: Alien Element (UK Mix) (Musique Pour La Danse)
16 Rhythm Invention: Can't Take It (Cold Cellar Mix) (Warp)
17 Benedek: Better Dayz (Apron Records)
18 COEO: Habibi Dub (House of Disco Records)
19 Estudiantes: Aconcagua (2 Tuff, forthcoming reissue on Cold Blow)
20 Fila Brazilia: Mermaids (Demo Version) (Running Back Double Copy)
21 Code 6: Third Aura (Midnight Drive)
DJ profile
Jam "J"
Location: Helsinki
Instagram | Soundcloud
Janne, the co-founder of Cold Blow, a label specializing in rare electro, techno, IDM, and vintage dance music, is driven by a passion for crafting distinct, captivating sounds. Based in Helsinki for twelve years, his roots trace back to Rovaniemi in Finnish Lapland. Beyond music, he's an avid margherita pizza connoisseur, constantly seeking perfection.