Very happy to feature Estelle P as a guest on Deeprhythms. With a passion for electronic music, Estelle's journey began when she discovered her cousin's turntables as a child, sparking a fascination that led her to explore the world of electronic music in clubs and through her own discoveries.
She became a vinyl enthusiast, digging through record shops and online platforms to curate a collection of old school and new tunes. Known for her storytelling approach in sets, Estelle takes listeners on pure rave experiences, sonic journeys that evoke deep emotions.
As the driving force behind Cahiers Électroniques, a non-profit organization, she promotes inclusivity and equality by hosting radio shows, organizing events, and collaborating with like-minded initiatives.
Don't miss out on the mesmerizing mix she's prepared, showcasing her eclectic taste and knack for creating immersive sonic landscapes. Estelle is a rising star in the vibrant Paris music scene, making waves with her talent and dedication all over Europe.
Hi there, Estelle. Can you introduce yourself briefly to our listeners?
Hi, I'm Estelle, aka Estelle P. I'm a DJ, producer, and founder of Cahiers Électroniques and a club booker.
What drove you to electronic music in the first place?
When I was a child my older cousin was a DJ. I remember seeing these technics turntables in his room and I was fascinated with them. I remember his look when he went out with his girlfriend, he used to wear a long leather coat, bleached hair and dark nails, I was so intrigued by the style and the sound as I had never seen a culture like this before.
When I moved to Paris for my studies I discovered new electronic music in the club sound systems and through my friends. I could remember the feeling that I had during my childhood.
Photo: Lily Rault
What about DJing, and how did you get started?
I bought my own turntables in 2016-2017 and started to dig in the Paris record shops and online. I started to mix with my records collection but I didn't know anything about rhythms, so I decided to learn with my ears and gears.
I bought an old TR-707 from a friend to reproduce some rhythms that I could listen to from my records. I started to try and deconstruct some tracks, to understand the composition of electronic music. By this way, I could learn more about rhythms and electronic music.
I played my first mix with some "music score". In the beginning, I had to write every rhythm, to make my transitions at the right time but I was a little bit ashamed of this method because nobody did this in clubs!

I learnt to use CDJs during Covid.
Name a few records or songs that had a big impact on you in your early days and why?
My biggest old-school inspirations are:
Dj Deeon - "Da Bomb" I discovered Dj Deeon and then the label Dance Mania. I was attracted to Ghetto House for a long time. I used to listen to this track in the subway when I went to school.
Drexciya - "Black Sea" I love this noisy side of music. I still play tracks that have an element of noise in them today. I used to listen to this track at home after a party or during the afternoon.
Aux 88 - "Direct Drive": For the electro lover that I am <3
Do you have any memorable experiences to share from your early days as a DJ?
When I played in Italy (Milano) for the first time, I played at a venue called "Il tempio del futuro perduto." It's a warehouse (without walls in some parts), with an amazing garden.
I really liked the vibe: it's a venue where people can be free, and at the same time, I found the venue romantic because of the of the beautiful garden and atmosphere. I could feel something true and authentic there. The sound system was sick also. I really fell in love with this place at first sight.
Photo: Lily Rault
You are an avid vinyl fan and record collector. Tell us a little about your collection and how you go about finding records to buy?
I discovered old tunes from the '90s to 1996/1997 focused on House, Breakbeat, Techno, and recently progressive Trance. I can dig all the record shops and also online on Discogs mainly during nights and weeks.
I love secondhand shops. I remember that I spent my summers digging at DDD (old Dizonord). During one August, I opened all the old boxes from the shop to find real gems.
Those records are the ones that I love the most because I spent so many hours finding them. I love to dig in record shops during my travels also. It's the best souvenir of my travels :) I dig new music and new producers also now. I love to play old school and new tunes.
When we met in Paris earlier this year, you talked about how you like to tell stories with your sets. When you select records for your sets, what's your approach like?
For my mixes I aim to capture the spirit of pure rave through a sonic journey. Peaks and Valleys, happiness and sadness. I choose a motif or a theme that I attempt to center the mix around.
For example, I chose the idea of "falling in love" for the RA+RE podcast. I wanted to invite you to explore this feeling for an hour. I wanted to create a light universe in which everything is natural.
The soundscape recalls the feeling of being carried away, of acting without thinking, while the acid and the inspiration trance can make you lose your mind. The last track is a very emotional track for me. I chose to end the mix with this one because once you fall in love, there is a whole sensitive and emotional world that appears.
What have been your most memorable record finds? Any good stories?
I remember that I found some old school house in NYC at A1. I re-discovered early vocal house and many first pressings of early chicago house releases. I studied the history of electronic music in books.
I was fascinated by Detroit and Chicago for a long time. So, for me, it was special to see some records from my books in my hands.
Plus, during my trip to NYC, when I was in the grocery store, I would hear these old House tracks. It was fun because I thought for American people, maybe it wasn't as special to listen to some old Chicago house in the grocery store for them but for me it was sick to buy some potatoes and tomatoes on it!
Name five tracks or releases that are currently on heavy rotation?
Spray - "Witches Drinner" (Craigie Knowes)
Sunset On Ibiza - "Three Drives" (Old School Stuff)
Glance Over - "Mac Declos" (Mama told Ya)
Bliss Inc. - "Mind 2 Mind" (MagicWire)
Cahiers Électroniques is your non-profit organization - tell us about your vision for it?
Cahiers Électroniques is a non-profit organization which aims to promote equality throughout electronic music. I curate artists through:
1. Radio Shows "Hold-Up" broadcasted on Rinse France
I host international artists for Rinse France. For example, our last guest was TPR, who curates parties in Berlin with his own organization: Hypersoft.
2. Events in Paris: Rex Club, Badaboum, Iboat, Petit Bain, Canal Barboteur
The goal is to push up equality and creativity in line-ups. I started to launch these events in 2019 in Paris because I noticed that we couldn't find enough womxn on line-ups.
The last project is a collaboration between Act Right (which pushes up inclusivity + safe place in France) and Cahiers Électroniques.
Each month, we promote three French womxn on Clubbing TV (live, hybrid set, or DJ sets). This residency is called "Inclusiv.e." During the set, we can read some words that focus on feminism and inclusion as well.
Organizing parties, running a radio show, and organizing activism is admirable, but at the same time, it seems like a lot of work - how do you go about finding the time for everything?
The truth is that I am always late everywhere because of my activities!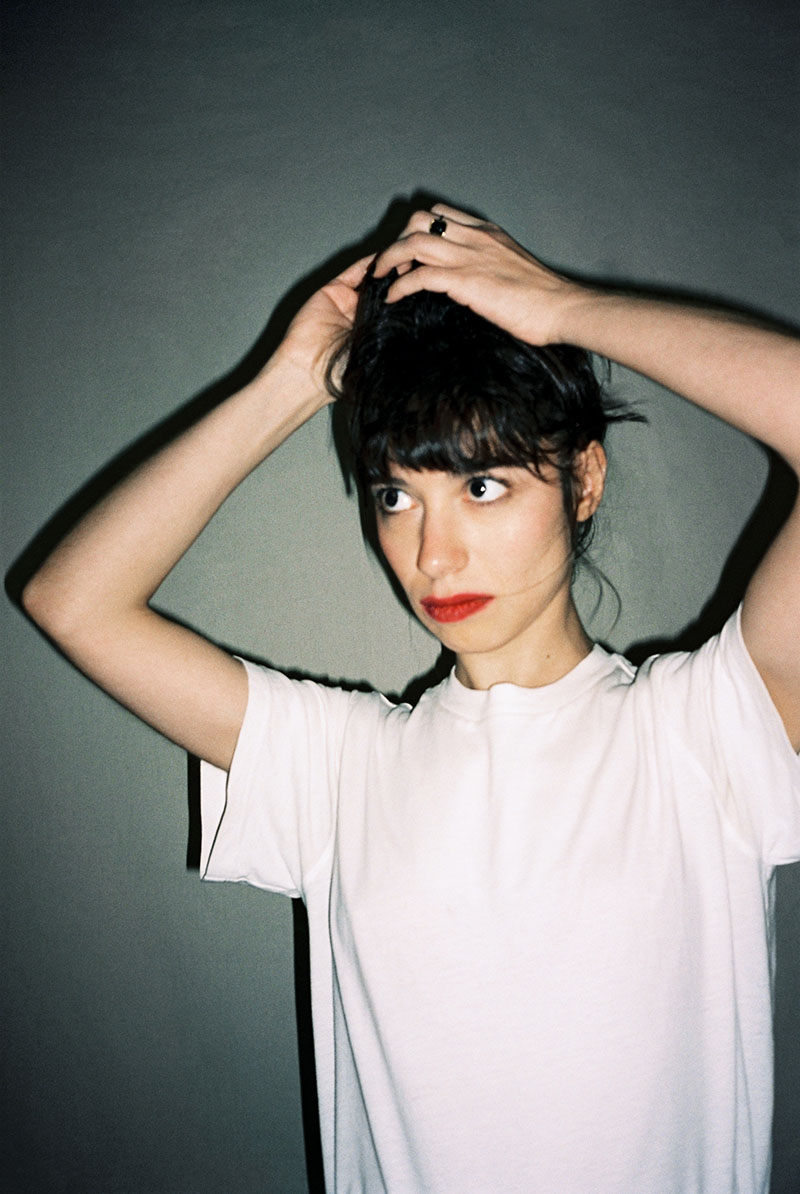 Photo: Loic Ougier
Any plans for the coming months?
I played for Boiler Room with my Bro: Nathan Zahef. It was an incredible experience. I am so grateful to have lived this experience actually <3
I have gigs in France and Europe over the symmer. I will take some days off to finish my productions and edits of old records that I have.
And, if you are in Paris, let's meet at Badaboum for my own party on 07/07 with Maruwa, Nathan Melja B2B O Xander, and myself!
Let's talk about Paris. You are involved in various aspects of the local music scene. Can you talk about your beginnings?
I started to dig and be an editor for a French local webzine. After meeting musicians around the world and covering festivals such as Terraforma, Dekmantel etc., I decided to run my radio show on Rinse called "Hold-Up Radio Show."
After that, I started to mix and schedule my own parties based on equality through Cahiers Électroniques. I would love to include womxn in the line-up because I observed that we couldn't find equality in the line-ups. At the same time, I became a club programmer of an intimate club in Paris... =)
What's the scene like today?
The scene is amazing: young and old generations are combined with many styles. Even if we have such great clubs and new venues, I still miss my favorite club, which was Concrete. I was born with this institution and saw my favorite artists there. I could never forget those old times!
Photo: Cyprien Barthezr
The mix you have for us is also really special. Can you tell us a little something about that?
For this mix, I wanted to capture a sonic journey. I selected some modern ambient, breaks, trance music to offer a unique travel experience. I wanted to explore mystical trance with a deep evolution during the mix.
This video was filmed at la Machine du Moulin Rouge in collaboration with the local VJ: Luce.
Many thanks, anything else?
Thank you for having me. I hope to see you soon. =)
playlist
Xeko - Metrolog
Rev Up - LWS
Falling Stars - Adam 2
Kylie's Lost In Tokyo - Solma
Close Encounter - Formally Unknown
Katos Tranquilizer -Alfredo92
Altered States - Giorgio Celeste & The Cobra
Sweat Ur Prayers - Byron Yeates
Bibu - Jumanji
Can't Slo Down - Maara
Hurricane Party - Jonny From Space
Play with you - Audrey Danza edit
No Nuclear Mushrooms – Amanite fx


DJ profile
Estelle P
Location: Paris, France
Instagram | Soundcloud
From industrial (techno, electro, bass) to spiritual dance music (trance, progressive), Estelle P always delivers a unique mix. As a record collector, Estelle P digs unpredictable tunes from the 90's to today. Her mix can bring you either into a sonic journey or take you, ineluctably, to a pure rave trip.
As a conceptual artist, for podcasts only, Estelle P chooses a motif to create a mix around it. She selects special sonorities, blends many styles to invite the listeners to shine a light of a new vision.
A Dj and an activist also, Estelle P is the founder of « Cahiers Électroniques ». She decided to launch her non-profit organisation to run her own parties in France. She has also run her own radio show 'Hold-Up' on the platform Rinse France and through her activism, she encourages women to involve into electronic music thanks to a streaming program scheduled in Clubbing TV in collaboration with Act Right.