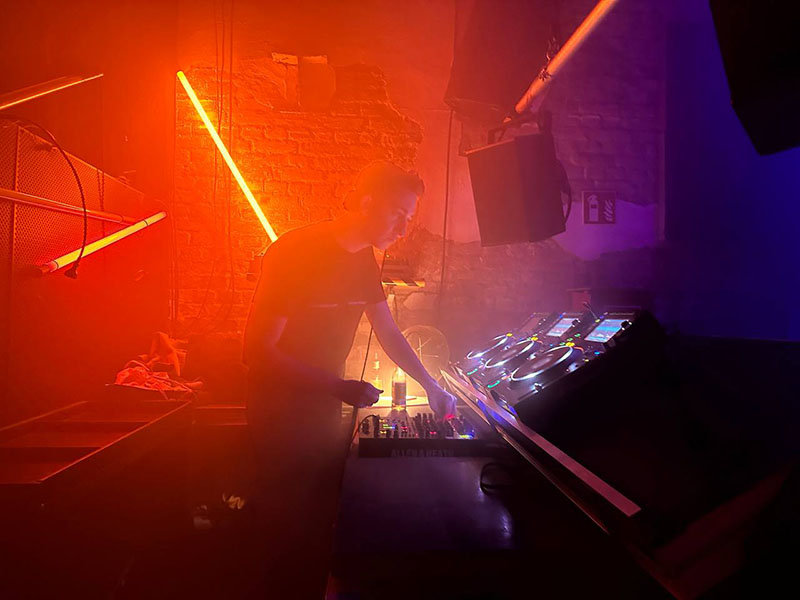 Digging early 90s progressive records and genre-curious excursions into all forms of groove, US-born, Berlin-based Solalex plays a sound inspired by the queer-futurist revolutionary spirit of underground raves.
I had the pleasure of meeting Jordan in Berlin a few weeks back. The scene really needs more DJ's like him - all about the music, making connections with likemind people and an advocate for the healing powers of dancing. Very glad to have him onboard!
Hi there Jordan, how's things? Can you introduce yourself briefly to our listeners?
Hi Timo, things are quite wonderful at the moment. I moved to Berlin nearly two years ago and the past six months coming into my own as a DJ have been some of the happiest of my life to be honest. So, things are great!
As you can gather from the enthusiasm, I'm American. Born in Boulder, Colorado in 1990 and much of my childhood spent in the mountains in Northern California. Proper 90s kid. I moved to London in 2016. I fell in love with the queer rave scene while living there and during Covid I started buying and mixing records to throw tiny parties with our flatmates in our Hackney Victorian house, since there was nowhere to go dance.
In Berlin, I discovered a queer collective – Hypersoft run by DJ Teeth and TPR – which featured my favorite artists, and they were kind to give me a chance to help out and learn about how to run parties and cultivate community.
Now as they take Hypersoft into a new phase, I'm setting off to create a new event series, collaborating with a dear friend DJ Chichi – a co-founder of the FLINTA* collective xcuse:u. We had instant bestie vibes when we played b2b on Refuge Worldwide and we share a vision for music's power to heal. It's early stages but you can follow here for updates.
What's been keeping you busy of late?
I played b2b with my friend Cowper in the Garten for the last Hypersoft at Renate with a winding six hour downtempo set while all our friends enjoyed connecting under the summer shade of the trees. I stayed until the close to catch Pjenné on her trip from her home in Australia, and her set was so inspiring it expanded my universe of digging into new realms that I'm now diving headlong into.
Besides pitching in to help however I could with Hypersoft over the last year, I've been hopping between collectives in Berlin meeting all of the lovely organizers and learning about their visions and everything that goes into making something for the right reasons. I've drawn a lot of inspiration from the community bonds that are formed in these spaces.
Recently I travelled with TPR to Amsterdam for the Landjuweel Festival in Ruigoord, a green space for artists, where he played the closing set for the queer stage hosted by the b.i.o.d.i.v.e.r.s collective. This experience was deeply moving and affirmed once again why I'm a DJ – I wrote about it on my instagram story, you can find it at the end of my "bi" highlights.
On the horizon, I'm planning my first parties with collaborators, including co-curating a floor at Tanzhaus West in Frankfurt on October 1st with DJ Chichi (and special guests to be announced!), and throwing some to be announced sweaty basement club parties in the Autumn and Winter here in Berlin.
Do you have any fond musical memories from your childhood?
My memory is music based. Songs bring me back to places and I feel the emotions of that time deeply. Recently when Sinéad O'Connor passed away, I wept. I often joked that she raised me along with my mom, since my mom played her music so much when I was little. In tribute to her, I just bought all the 12" with dance remixes to go with the Troy ones I already had.
Last year I learned that Madonna's album Ray of Light was actually produced by famous acid house and trance producers from the UK including William Orbit, and it all made sense why the energy of that record always moved me so deeply, even as a kid growing up in Colorado so far away from anything resembling the rave scene in Europe. Now I have 12" remixes from Sasha and Club 69 and I adore them.
My love for dance originated in Boulder during improv dance classes which my mom took me to when I was around 8 years old or so. Improv dance is about exploring free expression by translating the self into the body through movement. The room would be full of people of all ages up to 85. We'd dance to funky weird stuff and sometimes even live instruments, such as a Brazilian instrument called the Berimbau or other world grooves.
I take the freedom of this style of dance wherever I dance, and it's why I don't really need any substance to enjoy dance – the dance itself lifts me. I don't think there's a wrong way to dance (well, besides encroaching on others' space without consent) – dance is for everyone and it connects us all.
What drove you to electronic music in the first place?
I'm bisexual, which has always come with a fraught landscape of experiences in a heteronormative society which expects everyone to be put neatly in a box. Raves in DIY club spaces in London such as The Cause at its old Ashley Road location offered me a haven of queer expression and freedom where I could be myself. Queer community is at the center of why I got involved as a raver and now as a DJ.
I worked in a record store back when I was in college in Berkeley, CA. So I've always been a student of music. As I dig, I've fallen in love with the culture and meaning behind record labels in the UK, US, Germany, Netherlands, France, Belgium and Italy from the 90s and 00s, who were at the forefront of a revolution of rave culture. I like to treat this practice like a sort of anthropologist of music: combining both how the music makes me feel along with how it was situated in the culture, what are its politics, why was it made?
There were a few true diggers who I found online and saw playing in London who were my initial inspiration, and still some of my favorites today. I'm thinking of Lauren Hansom, Jamie Tiller, Lena Willikens, and Young Marco. Their commitment to digging is genre boundary-less and it's this approach that I aim to take.
You are an avid vinyl fan and record collector(?) Tell us a little about your collection and how you go about finding records to buy?
I spend hours and hours going back and forth between Discogs, YouTube, and across the music internet, researching labels and understanding how they were situated in the scene. There's a golden era of progressive house and trance from about '92 to '96 where I've spent the most time digging. But I'm branching into many areas beyond this genre or time period as I am exposed to the experimental musical soundscape present on Berlin dancefloors.
When I am travelling somewhere, I look up the record stores and go there to see if they have something I couldn't get elsewhere. Music overlays with culture and especially the physical format, since the shortest distance it can travel is from where it originated.
Recently I've been finding myself exploring more downtempo, ambient, and world influenced music with organic percussion and instrumentation. The boundaries of genre begin to obscure when you just listen for a feeling. There's so much to explore, I feel like I could do it for many lifetimes, so I have to make the most of the one I have.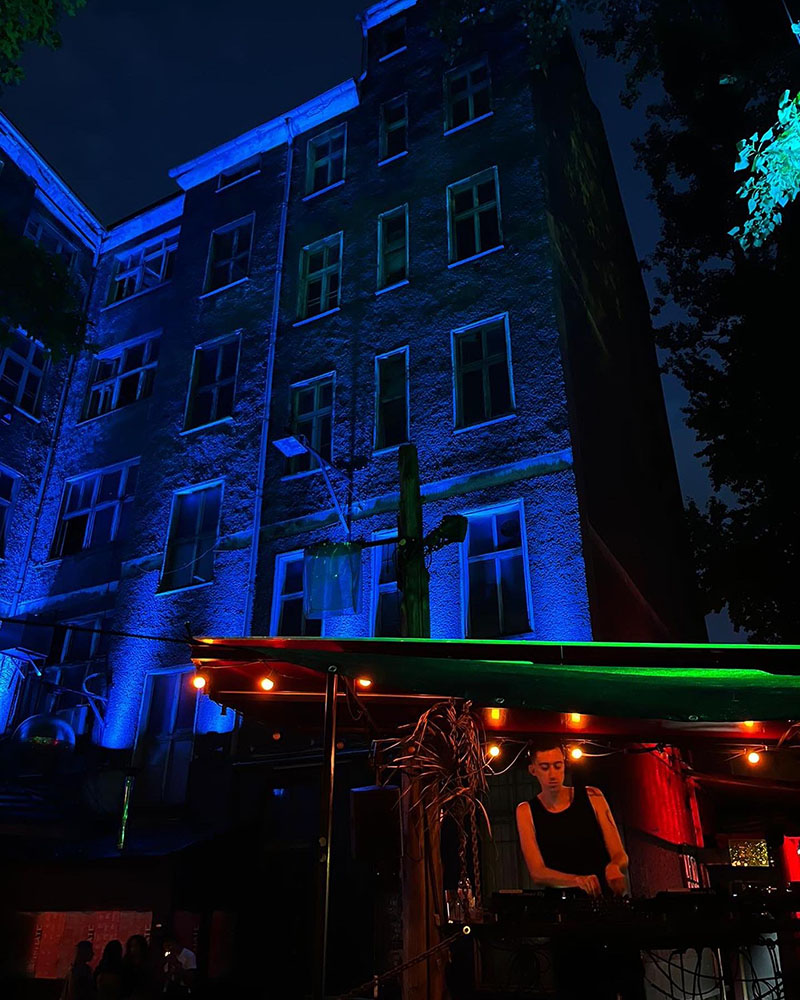 Who are the artists and DJ's you think deserve more attention than they get currently?
One of my favorite dancefloor moments this year was when I went to a warehouse space in Berlin thinking I was going to see Angel D'Lite and LUXE at Dissident during sunrise, but walked into a different party in the same building from another collective called Lunchtime and found a few of my friends on the dancefloor.
The DJ who was playing there is Robbin, and her all vinyl set was similar to Pjenné's in that it opened a new portal of possibility to me. A sound that sounded so true to what I enjoy, but breaking through into genres I hadn't yet explored. She has incredible range from ambient and downtempo to the most pure and celestial bass heavy music for the club.
So the mix, can you tell us a little something about that?
I didn't set out to make it this way, but as I listen back, this mix is a narrative of queer joy. During the last six months I have found a beautiful community of queer friends and allies, and I've never before in my life felt more supported to be my full self.
The mix explores the feelings during that time period. It's bursting with euphoria. It's a club ready fire starter.
I've been saving up 90s and 00s progressive house and trance records to share, along with some cheeky detours. I've also included some of my favorite producers making tunes today, including a few unreleased tracks.
Special shoutout to my friend Vio PRG for giving me the tip on the ebtg vocal version of a house track I was excited to share, which you'll hear at the end of the mix. Second shoutout to the lovely Leo who is half of Vitamine for sending me a vinyl rip for a track I wanted that was priced at nose bleeding altitude levels on Discogs.
I hope you enjoy listening. See you on the dancefloor!
playlist
Jinje - Big Skies
Marina Trench - Ose (Gerd Janson Remix)
Fio Fa - You Think
2 Boys 1 Girl U - Know Nothing (Original Vocal Mix)
Man/ipulate - Music Call (Certain People´s Early Prog Mix)
Anima - Gonna Show You (Robbie's Speed Garage Mix)
Adam Pits - Unreleased
Maara - Lezzies in a Jacuzzi
Motion Blue - In Motion
Match Box - No License (Bliss Inc Remix)
Tenth Chapter - Wired
Wax - Sun Drums (Nyonga Groove)
Baby Elephant - The Move (Remoove Mix)
Ken Ishii - Iceblink (Beat The Strings Attack Mix)
Ambassadors - Dreamland (Urban Mix)
Aldonna - Divine Time
Love Boutique - I'm Coming Up (Progressive Mix)
Steve Lawler - Andante (Taiko Mix)
Deep Dish with Everything but the Girl - The Future of the Futue (Stay Gold)
DJ profile
Solalex
Location: Berlin, Germany
Instagram | Soundcloud
Digging early 90s progressive records and genre-curious excursions into all forms of groove, US-born, Berlin-based Solalex plays a sound inspired by the queer-futurist revolutionary spirit of underground raves. An advocate for the healing power of dance, Solalex blends cosmic, emotional, progressive trance with new age, world influence, organic instrumentation and percussion to cosmically align dancers with the stars and the earth. As a gemini and a bisexual man, he experiments with dualities by blurring the lines between genres to shine a light on #bivisibility in the scene and create space for all to dance freely.