A meticulous dig into genre-beding dreamy nineties underground rarities - from breaks to rave to techno to clubbier house, it's all there, carefully picked by Gely. A wanderlust-y mix some might say.

Gely (fka Soundbank), started djing at 2013 and became a resident Dj at Budapest's best and hope-to-reopen-soon techno club, Lärm. He is co-running a record label called 'This Is Our Time' with his friend and longtime b2b partner Route 8 and managing a club night promoter team called 'It's Okay To Dance'. Producing tracks/edits under as 'This Is Our Soundsystem'. Let's find out more.
Hi there Geri, how's things? Can you introduce yourself briefly to our listeners?
Hi! My name is Geri, born & raised in Budapest. I've been sharing music to make people dance for a little bit over a decade - previously as 'Soundbank' - now under the alias 'Gely', because after the lockdowns I've felt somewhat disconnected with that previous alias.
My dj journey really began when we started to run a successful clubnight series and we did it for 5 years for LÄRM, Hungary's best underground club. And after a couple of years b2bing and being awesome friends to each other with Route 8 we co-founded our record label - 'This Is Our Time' and we co-run it ever since.
What's been keeping you busy of late?
I am very proud about releasing Tifra's new EP. It is called Coral Fractals, it's quite a trip, a little bit new direction for us and a really strong release with no filler.
And personally: one verrrry time-consuming activity for me was to organize my wedding and you know, getting married, haha. But it was one of the most wholesome experience in my life.
Do you have any fond musical memories from your childhood?
There's a ton, but let's see, 3 things that comes to mind first:
1) I grew up in a household where music was always a big part of our everyday life, and the first time hearing - it was more secretly eavesdropping past my bedtime to be honest - Kate Bush's album called 'Lionheart' was a game-changer to me. No sound was strange for my ears after that!
2) Getting a kind of a 4 tracker recording kids toy with effects, and
3) jumping around to every kind of rave and happy hardcore music with my sister in the livingroom.
Do you remember what were your first experiences with electronic music?
I was early introduced to electronic music via our record collection, but also via Viva and Viva Zwei, the German music televisions, especially the Viva Zwei audio-visual mix series called 2step was important. Recently I've tried to search for these and found some gems that I remember listening to as a child: link and link.
What about DJ'ing, and how did you get started?
I dabbled in music journalism for a while and I had a music-themed tumblr page at that time, so it was only a matter of time till somebody asked me to play at a New Year's Eve indie party, haha. I've enjoyed it way too much not to pursue this thing further.
Do you have any memorable experiences to share from your early days as a DJ?
Maybe it was my 4th or 5th gig, when I was closing a party and we were into the late morning, 9am or something like this with 10-15 people not giving up dancing. They demanded me to play more, even though I played the last 1 hour or more with only one cdj because the other one got broken, it was surreal :)
How you go about finding records to buy? What is your method?
Usually I buy records on Discogs and I am very systematic. If I like a track I will go through the whole discography of the artist, aliases, all the labels he/she released. When I'm abroad I try to go to at least one local record store, the records I dig there always get an extra emotional layer.
When you select records for your DJ sets, what's your approach like?
Of course I have my current preferences and favorites, but as somebody who plays a lot of genre it is almost a must to know what kind of a venue and what kind of an audience I can expect, basically I like to imagine myself there and go with that feeling when selecting. That is a strong filter usually, I would say.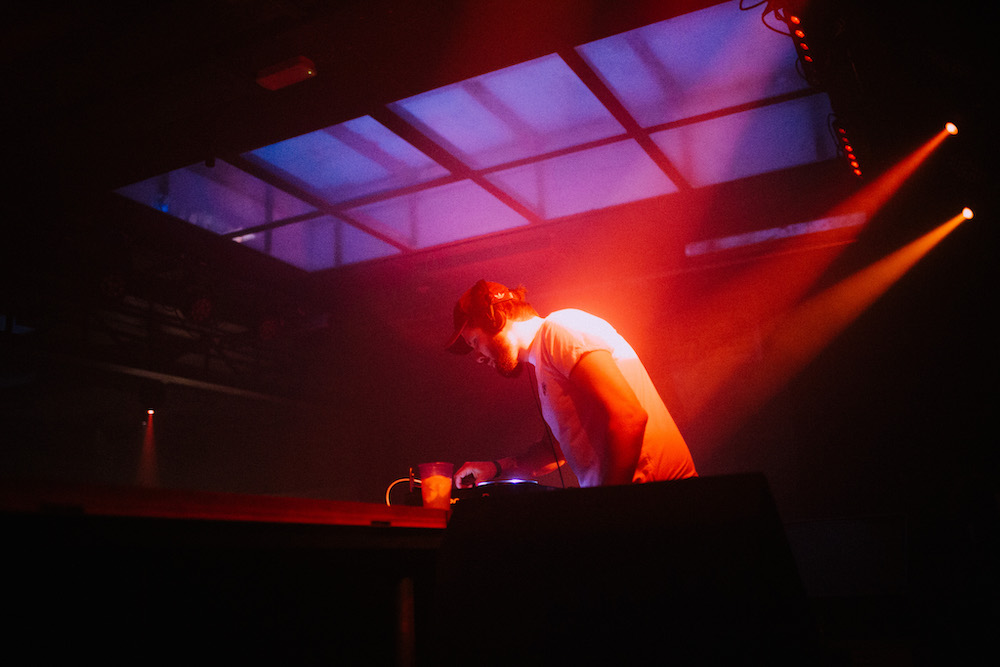 What are the best memories as a DJ?
There are a lot of course, but these are usually really plain and simple: the mood is just right on the dancefloor and people and friends come up for a hug, and it's just love and dancing all around, that's the best feeling, really. And to flex a little bit, I am also including as one of my favourite memories when I ended up b2bing with Palms Trax at one of our clubnight!
Do you have a comfort record, one you can put on that makes you feel good no matter what?
To comfort or for soothing my mind I would probably go with one of the classic ambient albums by Brian Eno, probably Apollo, or with a recent find: John Carroll Kirby's 'Tuscany' album, just the best for a hot summer evening. For concentrated work I usually go with the cheesiest option and end up listening to 3 hours of lord of the rings soundtrack loop.
Let us know three secret weapons that you almost every time carry in your bag?
These are with me everytime for more than a couple of years now.
Pepper Tongue - That's Why We Dance
One of my favourites dance anthems. It was time to let it free, so I've put this in the mix I made for you
Technicida - The Pearl (there is no proper link to this track only together with another track)
It's a flawless mixture of a stomper and of a perfect, heart lifting closer track.
U.S.U.R.A - Open Your Mind (Dub Mix)
Not a secret weapon per se, but definitely a weapon of mine. Simple, effective, always there for me when there's a need for a little boost on the dancefloor.
Who are the artists and DJ's you think deserve more attention than they get currently?
I think a lot djs and producers deserve more. Recently the festival lineups got a little bit boring with the same names all over again, maybe this year was a little bit better.
Djs from Eastern Europe and from the Baltics in general are still under-represented I think, but it is kinda understandable as dance music is still very scene-based and that is not a bad thing, I'm just rooting for them.
But you know, I'm rooting for all my friends, so from Hungary I would say Pizza Amore, these 2 has a non-compromising, distinctive style and they are fun to be around. And of course much more attention would be nice for the people we put out release for! :) For example shout out to Perdu and Tifra I really-really enjoy their styles and mixes.
This Is Our Time is your label with Route 8 - tell us about the label's vision and what's in the pipeline?
The vision is quite simple now and we don't want to put anything pretentious behind it: so it is just to put out releases from up-and-coming artists we are enthusiastic about and also every once in a while a new Route 8 release is always nice.
We shifted from vinyl only to digital only when it comes to eps, there's a lot of reasons for this like environmental impact, increased costs and serious delays with pressing plants, so on, so forth, I'm sure everyone is aware of these. But if we were to release an album, we would definitely consider the vinyl format again!
And as what is coming? We are just preparing for the next release, hopefully it is coming out in this fall. It will be with DJ Chrysalis and I hope it will turn some heads because it has some very peculiar and leftfield-y (in a good way!) tracks, we already tested some of it at parties and boy, it's wonderful to play them out.
Where do you find the music and the artists for the label? What is the most rewarding part of running the label?
We are a small label and not based in a city with big electronic music scene like Berlin or London, so we search on soundcloud mostly, the challenge is of course to find the unique and talented artists early in their career. And one of the best feeling when we see them flourish later on.
Let's talk about Budapest. What's the scene like today?
It's very mixed. As for the club life, some of its important building blocks did not survive the lockdowns and 2 years was enough for a lot of people to wear out of this lifestyle, what remained is perhaps a little bit without roots and depth for my taste. But of course there are also very good things, and a huge rejuvenation of the audience.
When it comes to producers - beside the already well-known actors like Route 8, Gabor Lazar or Imre Kiss, etc - there are some interesting acts and nice initiatives like this collection, and I feel in the next 2-3 years something bigger could finally emerge from the Budapest scene. Political turmoils usually fertilise the artistic minds!
As for the clubs, a proper underground club is still needed I would say. Hopefully the previously mentioned Larm gets its permits soon and will reopen again, because its absence left quite a void. But there are smaller venues that are trying to keep the light (or dark).
Can you name a few events from Hungary that should be on people's radar?
If you are here in the summer there are cool festivals like Kolorádó with the nice mixture of great international acts and homegrown heroes in a beautiful forest-y place. There is Alkotótábor with a close-nit community and no bullshit vibe and of course everbody knows Ozora Festival, which is specially interesting in this resurgence of goa music we see lately. But if you are in Budapest just for a weekend you can catch a nice open-air daytime rave, called Santsat to meet some locals.
So the mix, can you tell us a little something about that?
Almost from the very beginning of my dj career I've found that the classic 90's sound is what closest to me. Of course I realise it is a trend now, but hopefully through my filter I can contribute something honest and special with this selection of goodies, because this mix is very personal to me.
It's usually a painstaking and long process for me to record a new mix that I'm satisfied with and this was no different. Plus it's was the first time I've done it since the covid period and it turned out to be a somewhat wanderlust-y, dreamy mix that may reflecting a longing, but I leave it to the listener to decide what for.
playlist
X-Dream – Live Fast - Die Young [Tunnel Records] (1993)
Influx - Dreamscape [Sapho] (1993)
Prototype 909 - Planet S [Instinct Records] (1994)
Technicida - Planet [Flying Records] (1991)
Immersion - Metal sea [Swim ~] (1995)
Basic Bastard - Space Rider [Ignitor] (2003)
Wire Walker - La Troisieme Dimension [Cool Summer Cuts] (1993)
Spice - Perfect Gentle (Gely Smooth Cut) [Roughmix] (1991)
One Tribe - What Have You Done (Is This All) (Club Mix) [Inner Rhythm] (1992)
Mediteria - Trance-Dance (Monoton Mix) [RCA] (1992)
Illuminatus - Hope (Trancesylvania Edit) [23 Frankfurt] (1993)
Acrid Abeyance - 303 in love [Important Records] (1994)
Hypnopedia - Cario [BOY Records] (1992)
MOE - The Pray [BOY Records] (1992)
Microbots - My Key My Love [Overdrive] (1992)
Pepper Tongue - That's Why We Dance [Officine Fiorentine] (1994)
Phenix - Aurora [Xtra Nova] (1996)
Cygnus X - Positron [Eye Q Records] (1993)
Humate And Rabbit In The Moon - West (Gely Edit) [Superstition] (1994)
Eskimos & Egypt – UK-USA (South Central L.A.) [One Little Indian] (1993)
DJ profile
Gely
Location: Budapest, Hungary
Facebook | Soundcloud
Gely (fka Soundbank), started djing at 2013 and became a resident Dj at Budapest's best and hope-to-reopen-soon techno club, Lärm. He is co-running a record label called 'This Is Our Time' with his friend and longtime b2b partner Route 8 and managing a club night promoter team called 'It's Okay To Dance'. Producing tracks/edits under as 'This Is Our Soundsystem'.
https://soundcloud.com/gely-dj
https://www.facebook.com/gelytiot
https://thisisourtime.bandcamp.com/ (record label)