Iranian producer & DJ Nesa Azadikhah steps in for guest mix #101. She has quickly established herself as one of Tehran's most in-demand names. Nesa also manages Deep House Tehran, a platform that promotes Iranian electronic musicians.
Hi there, how's things? Can you introduce yourself briefly to our listeners?
My name in Nesa Azadikhah, I was born in 1984 in Tehran/Iran. Im a female DJ and producer and sound artist.
I am also the head of a music platform in Iran named "Deep House Tehran". This platform has been active for more than 6 years with its weekly podcasts, live performances, videos, news and etc., and it is almost well known among electronic music fans and artists in Iran.
What's been keeping you busy of late?
What we've been most busy about during this current year was having live streams weekly in our platforms, the first 6 months was almost every night, and recently its been once a week we're having live stream live on DHT Instagram and later uploaded on youtube and other social medias.
Do you have any fond musical memories from your childhood?
I was always a big fan of making selections on cassette tapes, I remember having a stereo and making it very close stuck to the tv and record all my favourite musics that was being shown on Musical channels such as Mtv and Vh1 on our satellite.
What drove you to electronic music in the first place?
Mostly it was the underground parties which was happening around tehran and i remember my friends always telling me to play musics because i had one of the best selections around them.
What about DJ'ing, and how did you get started?
When i was 16 years old, i got a gift from my friends which was Pioneer cdj 400 and that was the time i started DJing.
Name a few records or songs that had a big impact on you in your early days and why?
The first artists who had a big impact on me were Bjork and Laurie Anderson.
If i want to name songs one of them will be O Superman by laurie Anderson, and i was impressed by the structure of the track and it was made so simply and how she used the vocals of O Superman in different versions and types of sounds.
And the other one was Bjork - Unravel and i was impressed by the violin inside the track and how she sang the song and there is too much emotion inside this track.
And If i want to name a new artist Arca had been having an impact on me.
Do you have any memorable experiences to share from your early days as a DJ?
It was the time when i just started going to underground parties and play music, it was super weird and exciting that a girl in Tehran is playing music as a dj which 70% of a time their reactions was not so good and mostly negative, and only 30% of the time i got good reactions at that time.
You are an avid vinyl fan and record collector. Tell us a little about your collection and how you go about finding records to buy?
I have several records which i received from family which are in the genre of Jazz and Blues and Classic and Rock, before the dollar and euro become too expensive in our country, because we don't have any credit card and stuff here, I used to choose Records in foreign countries which my friends lived and they used to send it to me or whenever i went to them i collected them.
But now because of the money situation and how dollar became expensive its not possible anymore for me to buy records and the shipping is also a problem because of the sanctions.
As a DJ, you're known for your eclectic sets - ranging from techno to house and everything in between. How has your collection expanded over the years - is your approach systematic or organic?
Its around more that 20 years which i've been listening and selecting music in different varitiey of genres, and also because i am a moody person, this helped me to expand my collection in different genres of music, and i think it was mostly organic what happened throughout these years.
When you select records for your sets, what's your approach like?
To set up a journey for a set is quite important for me, usually the first and last tracks are very important for me, the first track because it will be leading me to know how to manage and set up the set and the last track is important because the listeners would enjoy and want to go back and listen to the set agian.
Do you have any good stories to share about the live shows or DJ'ing?
After all these years of working, before each live set or live act or gig which im gonna have, i still have lots of stress and nervous becoz i want everything to go in its best way.
What have been your most memorable record finds? Any good stories?
I remember I found a record randomly, which was a remix of Sade which included 3 tracks and i could never found them online or digital in internet which i found in a vinyl store in Istanbul. When i was playing it, there was a very good feeling about it.
Do you have a comfort record, one you can put on that makes you feel good no matter what?
There is lots of Records that i like very much. all the records that i play in my sets i love so much so its hard for me to pick just one.
Name a few tracks or releases that are currently on heavy rotation?
https://soundcloud.com/shahr-farang/a1lenta-by-this-river


https://www.youtube.com/watch?v=N6-svj5HK9o
https://www.youtube.com/watch?v=ls2F59qCKmA
https://www.youtube.com/watch?v=eKQuwAmIVKA
Who are the artists and DJ's you think deserve more attention than they get currently?
I can name a few Iranian Artists and i will put their links here below.
Tell us about Deep House Tehran - how did you get started and how has it evolved?
This platform started its activity first through instagram and its goal was to make job opportunities and a way for iranian artists who are active in electronic music scene to be able to show and promote their works inside and outside of Iran.
It started as a weekly podcast in the begining then we added a news section or started sharing reposts of different artists.
So day by day i was looking to bring up the atmosphere and come up with new ideas and every year we added a new section to the site.
And by time passed because i couldn't handle to do everything by myself, some of my good friends joined to help me, and its been couple of years which Deep House Tehran is working as a teamwork.
The sections of podcasts, premiere, videos, news, teaching part, review and so on.
Also its been years that we are organizing events and showcases inside and outside of Iran.
What has been the most rewarding part of running DHT?
I think the most rewarding was the growth of it and how it become international around the world, this really gave me the power to go on.
Any good stories to share from the past shows/mixes?
Its been 4-5 years during these times when deep house tehran was becoming more and more famous and i was being invited to many places and countries around the world to have a showcase or play music in their events and each time my visa was being rejected, in 2019 I was invited for a festival and suddenly my visa was accepted and I could finally move to Berlin and part in a festival and this was a good step in my life.
Any plans for the coming months?
Just livestream for another platforms and festivals and only Virtual.
Did DJing eventually turn your attention into making music or was it always there right from the beginning?
Djing actually turned my attention into making music and production.
How have you evolved as a producer?
I started uploading the tracks which i was producing and getting feedbacks from people and then i was being introduced with record labels on soundclouds and then i could have release on them.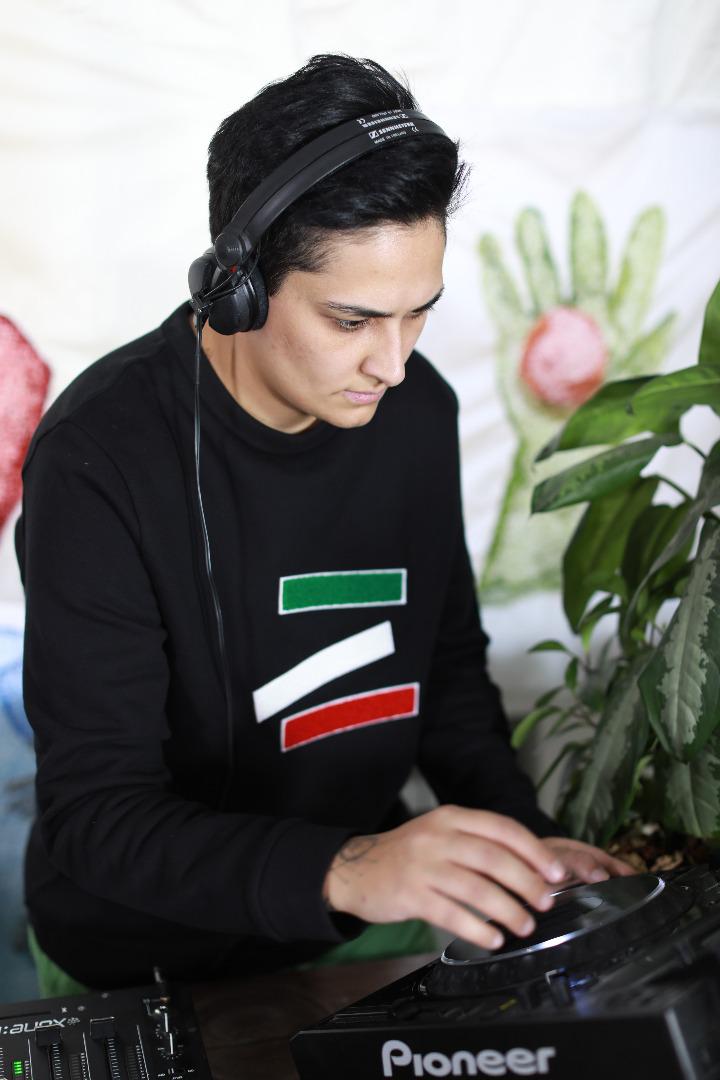 Are there any new tools or musicians or artists who have recently inspired you?
There was a chinese festival named "Out Of Touch" which i was also a part of this festival, there was several artists in the festival which their process was quite interesting for me and i was being inspired by them
Out of your own releases, which do you have the strongest bond with and why is that?
My release with Verdant Records because the tracks that i produced in that Ep was the story of my past 4 year old relationship, and all my anger and emotions was being projected into the sound of that Ep and there was very good feedback on this Ep.
I produced it in 2018 and it was released on 2020.
What does the coming 12 months hold for you regarding releases, collaborations etc.?
I have several Collaborations with some Iranian artists.
An Ep with Kamyar Khanzai
An Ep With Araam
A remix with Namito
An ambient experimental which can will be released with Shahr E Farang Record Label.
What's your setup like and how do you work on music (process, themes, details)?
Before i used to have a Behringer Mixer, plus Tb3 Roland Jupiter 8 Boutique, Volca Series, Korg, E1 korg Machine.
But Recently mostly i've been simply working with Ableton Live and Push.
So the livesets, I assume you leave a lot of room for improvisation. How has your liveset evolved during the years and how does it work currently? Please go into details :)
Around 10 years ago it used to be mostly improvised but now a days not really improvise in my livesets.
What have been the most rewarding parts of playing live?
The cycle of energy between me and the devices and the audience and how its being lively improvised and happening is a big energy which makes me feel good.
What's your take on the current state of electronic music worldwide?
Its being very weird and interesting at the same time, there are too many artists and djs and producers comming around the world and making music, I'm not saying this is a bad thing, there is both good and bad side to whats happening.
All of these people are being inspired from each other and there is lots of competition between all of them, on the other hand there has been a big fall down of quality of music in the electronic music scene because of too many stuff happening, so in a way there is less attention to the process of artists, Hoping for the electronic music world to become better everyday.
Speaking of electronic music and the whole culture surrounding it in general, what would like to see more of and also, less of?
I really want to see the talented people and those who have passion and put energy for this really comes up and being shown, not those who do it for the show off of it.
And to go back to normal party life pretty soon and live and enjoy as soon as possible.
What's the scene like today?
Electronic music scene in Iran is very deep underground, but during these years there are a few public festivals happening in iran and apart from those festivals we are seeing a lot if different artist performances in electronic music daily around the city which is mostly experimental, ambient, noise or in a form of visual and sound.
What are the local flavors that make the scene unique?
Too Much Substance :))))
Is electronic music a counter culture in Iran or better yet, how do you see it impacting the society?
Well there has always been parties and electronic music happening in iran in different times, from disco to deep house to house genre, but each year as years passes this scene becoming bigger and bigger and genres of musics are widening and parties are more happening around the country and people are being more introduced to electronic music and this shows how electronic music is effecting on people and on the culture and how people are becoming a fan of this genre mor and more.
Can you name a few local acts, events or locations that should be on people's radar?
Art Galleries around the city which some live acts happening inside.
So the mix, can you tell us a little something about that?
I'd loved it if i had more time so i could arrange a better journey for this set
But unfortunately these days i've been super with projects, mixes and also managing my platform.
But i tried my best to make it a multigenre podcast like my other ones with an up and down journey which includes lots of genres such as Minimal, Techno, House, Breakbeat and so on.
playlist
No tracklist
DJ profile
Nesa Azadikhah
Location: Tehran, Iran
Deep House Tehran | Soundcloud
Nesa Azadikhah (1984) is a Tehran-based DJ, music producer, composer, sound artist, and musician.