Starting off as co-founder of Zugvögel Festival and the Conartism Collective, the Berlin (via-Bremen) Mystigrix has since built a strong reputation as a DJ and a producer. I met Cyril a few years back in Helsinki (what a friendly person) and I'm extremely glad to have him as a guest here of DR. Check out his work on Berlin Bass Collective and especially the collab with Paris Brithledge on Thirty Year Records, tasty stuff!
Hi there, how's things? Can you introduce yourself briefly to our listeners?
My name is Cyril and I'm a French-German producer & dj. I've been producing (sincerely) for about 6 years now. I'm about to move to Berlin in April and I'm really excited to connect with other musicians there and take advantage of all the possibilities the new location will bring.
What's been keeping you busy of late - you're both a DJ and a producer?
Due to Covid, I've focussed more on producing for the last two years. There were barely any gigs to be played and I lost my motivation to DJ. This mix is part of my journey back into being a DJ, as I'm challenging myself to get back into the habit of things. I've stacked up a lot of material over the last months that I hope to release within the next months, either as self-releases or with the right labels. I will abstain from writing "big things coming soon" as that is too cliché ;)
I've been part of the integral structure of Zugvögel Festival and the Conartism Collective running events and said festival for the last 5 years. Since last year, I've dialled back a bit. Changes in my life have been drastic and I needed to focus on my mental health. There was no energy for these projects in addition to my own music. I might get involved more again soon, as I am looking forward to the situation going back to events soon.

Honestly, slowly adjusting to the transition out of Covid and the current political situation the world is in, is taking up a lot of my headspace.
Do you have any fond musical memories from your childhood?
Since the age of 6 I have been a drummer and enjoyed playing in several bands and musical projects. I used to be really into nu-metal and hard rock when I was younger. The Tony Hawk's Pro Skater Soundtracks sum it up pretty well.
What drove you to electronic music in the first place?
I've always enjoyed electronic beats in rap and hip hop, which I used to listen to a lot when I was younger. G-Funk is still what I listen to a lot. I'm positive that genre primed me for house music. It took a few friends to introduce me to electronic music in school and once I had my own resources for finding new tunes, I got pulled in.
What about DJ'ing, and how did you get started?
My crazy music taste has always been a problem for my friends. At every house party, I went all-in once I got the aux cable. The urge to show and discuss all the music I discovered with other people has always been there, so for me it makes sense that I started to DJ once I discovered you could force a room full of people to listen to music taste (I'm joking of course).
Do you have any memorable experiences to share from your early days as a DJ?
I played a lot of shitty gigs, which I'm sure everyone goes through. In retrospect I think the countless warm up gigs really helped me develop my skills and a possibility to learn how to build up a night & atmosphere.
My favorite early experience would be the first rave I organised with my friends. It was an illegal party under a Autobahn bridge with really bad equipment and almost no lighting. Surprisingly, loads of people showed up and the location combined with music and excitement did the rest. Unfortunately we got busted by the police, but it was still a really great experience I love to think about.
You are an avid vinyl fan and record collector. Tell us a little about your collection and how you go about finding records to buy?
Due to my move to another city, I had to pack up my whole collection and throw out some stuff that I don't listen to anymore. This was also a great opportunity to rediscover some of the gems I had forgotten about. I think I have somewhere between 300-500 vinyl.
I prefer going to stores and digging through their cheapos. I usually discover weird stuff that one doesn't find on the internet. Especially music from the 90s. I enjoy playing those unique tracks that bring me out of my comfort zone. Some of the "old" bangers from the 90s still work like a charm nowadays but have been forgotten about.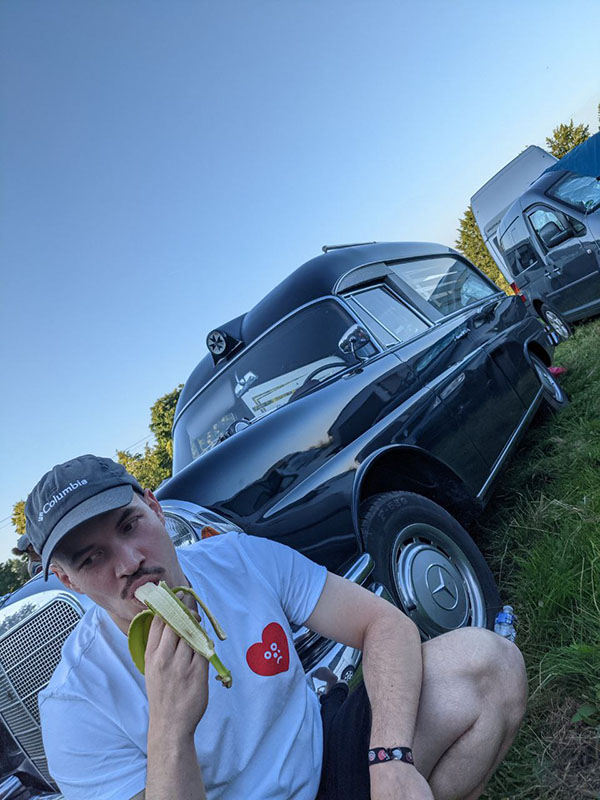 When you select records for your sets, what's your approach like?
I usually select 2-3 tracks to start the night. I need some kind of stability and a plan to get me into the groove and establish a foundation for me to be comfortable. After that I just like to see where it goes. I normally have around 20-40 tracks on me, that have a broad range. Of course there are some "staples", tracks or records that I know really well and that I can use as a tool to direct the set into certain directions. Other than that, I just like to wing it and go with the flow.
Do you have a comfort record, one you can put on that makes you feel good no matter what?
The Whitest Boy Alive - Dreams
Name five tracks or releases that are currently on heavy rotation?
Pluto - Anna 2



Ben Hixon & Stonie Blue - 4 The Dancers (feat. Stefan Ringer)
Bushbaby - Woman's Touch
INSTINCT - Apache
Joy Orbison - Pinky Ring
Who are the artists and DJ's you think deserve more attention than they get currently?
There are a lot of underrated DJs and artists that deserve way more attention than they get. I will name three, but the list is way way longer.
I can only recommend DJ Pattex from Cologne. He's a crazy selector and recently started his own radio show.

You should definitely check out CATELLE, two ladies that have been putting out some fire mixes lately.
I recently got to know Veenus. She's a talented vocalist putting out some amazing r&b and pop.
Out of your own releases, which do you have the strongest bond with and why is that?
That would still be the Mile High EP I released on Thirty Year Records.

This my first vinyl release, which was one of the goals I had for a while. On top of that I got to work with Chicago vocalist Paris Brightledge, a really great experience. I learned a lot with that release and as a bonus, the label put out an amazing remix EP that you can also get on vinyl with remixes by Interstate, Keita Sano and Dubbyman. All of these artists that I have been enjoying for a long time. Crazy that I got to work with them.
What's your setup like and how do you work on music (process, themes, details)?
I use my computer with Ableton to run and record everything. Then I have a bit of outboard gear that I use for quick inspiration and jams. That includes a Novation Drumstation, a Roland MC-303, two EMUs, a TB-303 and a Roland JP 8080.
I used to start with a drum loop to get a groove going, but I recently noticed that kind of limited me. Now that I also make more breakbeats, electro and other stuff that is not limited to a 4 to the floor kick pattern, I usually only add a snare and the rest of the drum elements at the very end. This way I feel I can experiment more.
What's your current favorite piece of kit?
I recently got two EMUsfor a bargain. The Dance Planet 9090 and the Planet Phatt. I'm still discovering those two machines, but I am absolutely intrigued by the awesome sounds I can find on these. 6 months ago I also got a Roland MC-303 that I used to produce an ep, but now it's time to understand my new toys. I have been guilty of GAS during the pandemic, but all the stuff should keep me busy for a while.
Can you name a few local acts, events or locations that should be on people's radar?
Ranko and his Am Apparat crew are my top pick for Bremen local artists.
https://soundcloud.com/rasty-ranko
https://soundcloud.com/amapparat
So the mix, can you tell us a little something about that?
To be honest, I just powered up my DJ equipment after a long while without playing and went with the flow. There are some of my own tracks included, even an unreleased one, that I did not have the chance to play in front of anyone yet. Also some pieces that I listened to quite a lot during the last few weeks. I just imagined being in a small club with a few people as I really miss that aspect of being a musician. I hope that I nailed the vibe.
playlist
Vellichor ( DJ-Kicks) - Special Request
Archive - Nephase
Ambient Dance - Earth Trax
Jan Juc - Edo Lang
Leave With Us - DJ WHIPR SNIPR
Big Beat Manifesto (Original Mix) - Eden Burns
Can You Believe What Happen - Di Barsotti
Clear Eyes - Mila V
Dust (Original Mix) - Brame & Hamo
All 4 You - Mystigrix
Exaltic - DJ Life
606 Heartbreaks (unreleased) - Mystigrix

DJ profile
Mystigrix
Location: Berlin, Germany
linktr.ee/mystigrix | Soundcloud
Mystigrix, a name that stems from the producer's French heritage. Starting off as co-founder of Zugvögel Festival and the Conartism Collective, he has since built a strong reputation of going the extra mile as a DJ. His hard-hitting, genre-spanning approach has led to euphoria on dancefloors across the nation.