Parisian DJ, producer, radio host and label co-owner Thomas Guillemot aka NairLess recorded guest mix number 126 for Deeprhythms. I met Thomas in Paris in January when the Aurore 404 crew, which he's a part of, invited me over to play at their party. I got to witness his excellent DJ'ing skills and got an impression of a very kind human being.
Thomas has a handful of releases out this year (and more coming soon) on such esteemed labels as Radiant Records, Slam City Jams and Semi Delicious, keep your eyes peeled.
Hi there Thomas, how's things? Can you introduce yourself briefly to our listeners?
Heyyy! My name is Thomas, I'm currently 26 years old, I was born in Ho Chi Minh City in Vietnam and adopted in France when I was a baby. I had a first step in the music world when I was 4 where I learnt to play the piano and I'm now producing and mixing some electronic music.
What's been keeping you busy of late?
I mainly focused the beginning of the year on production and releases. Got already a track released on Radiant Records early march on the last IWD comp. You should definitely listen and buy the compilation! There are wonderful tracks from wonderful artists and all the benefits go to charities to help people impacted by the Ukraine war and by the earthquake in Turkey & Syria.
Got also a release on Slam City Jams that came out May 26th with a very nice Running Hot remix.


I'm also co-founder of Aurore 404, a house music label that is based in Paris, but I'm more a resident artist in it now and not that much in charge of the releases & party organisation.
I also have a residency on Protocole Radio, where I already invited some great artists that I really like such as Mpeg, Timo Deeprhrythms & Remotif.
For the party stuff, I'm also in the french collective L'Appart Music. We organise some parties in Paris and around France.
Annnd, last but not least, I'm working with two friends on a progressive house / trance - electronic label but it's still under construction!
Do you have any fond musical memories from your childhood?
I practised the piano for 15 years. Never had a great technique but I was more into composition and improvisations.
What drove you to electronic music in the first place?
Well… Let's not lie, I discovered electronic music with some EDM stuff and I started to produce this kind of music. I discovered more underground kinds of music afterward from a friend and fell in love with it.
What about DJ'ing, and how did you get started?
I did my first gigs with my collective l'Appart Music in small bars. Really enjoyed (and still really enjoy) digging for some old and new records to play them.
Name a few records or songs that had a big impact on you in your early days and why?
Pink Floyd - Wish You Were Here (and most of the Pink Floyd tracks) : Definitely a masterpiece, really into progressive rock music and hovering pads and textures. This truly inspires me in my productions (even if I'll never reach that godlike level)
Otherwise, I really like a lot of genres of music and I'm very open to discover some new things.
Tell us a little about your collection and how you go about finding records/music to buy?
I like to dig a lot on YouTube and Discogs, especially on some small YouTube channels that post old school tracks from the 90s.
I also look for new stuff on SoundCloud and Bandcamp and I try to be aware about the releases of the artists I like. I also love to spend time in record shops in Paris and whenever I travel to another city and country.
How has your collection expanded over the years - is your approach systematic or organic?
It really depends on my mood. I love to spend hours digging everywhere and I'm always scouting for some new music and unknown old stuff.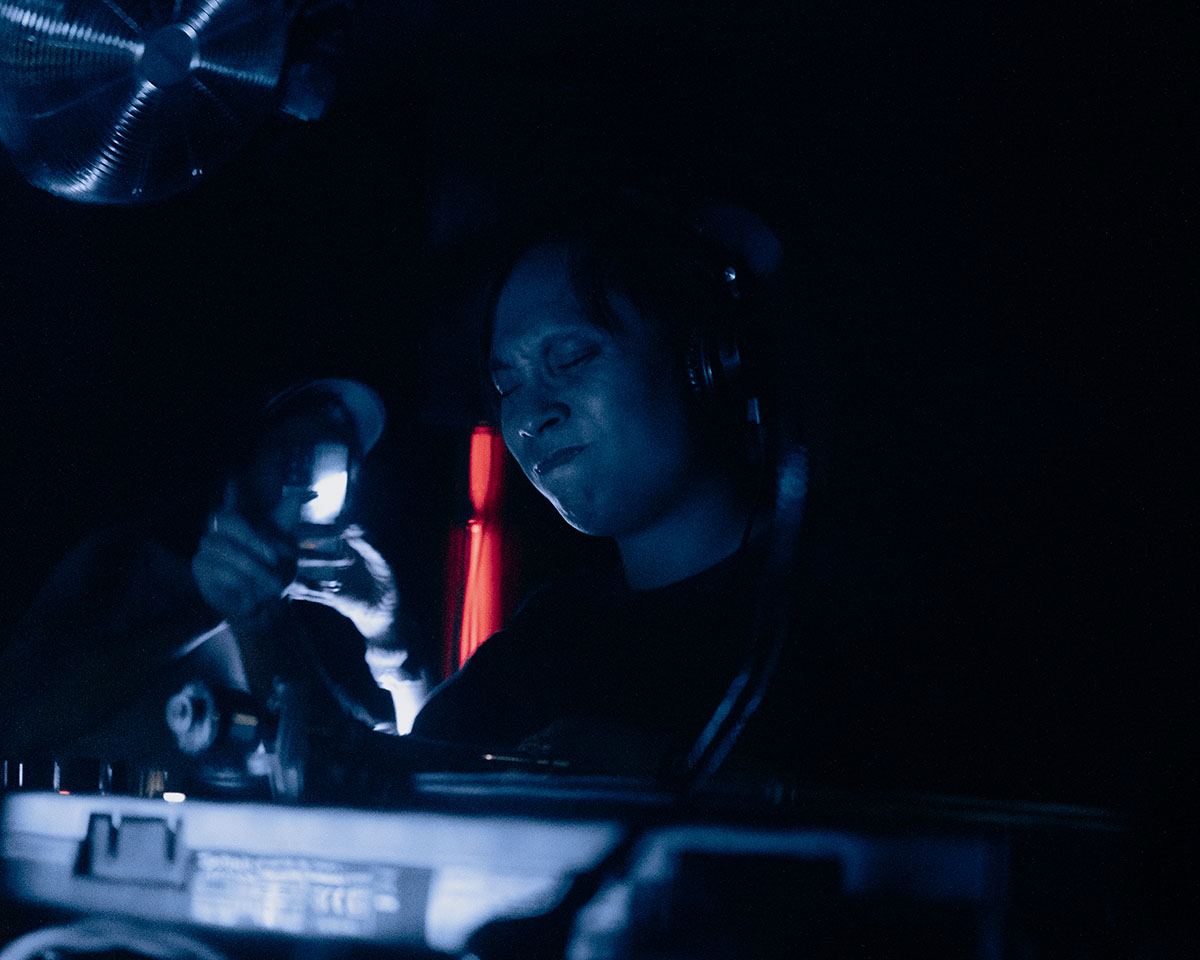 When you select records for your sets, what's your approach like?
I like to have at least 1 or 2 intro tracks and 1 or 2 ending tracks. I'm really into introductions and conclusions with pads and hovering melodies. Otherwise, I try to bring several records and digital tracks to be as flexible as possible to adapt to the crowd.
Name three to five secret weapons that you almost every time carry in your bag?
Alex Kassian - Oolong Trance (Paradise Mix) - played it a lot and still love to play it
Shindig - Seasons - A masterful old school deep and melodic track
Reefa! - Inner Fantasy (Suck My Horn Mix) - Big energetic track release on Stress records, pure efficiency
L.T.C. - Why Not Tonight (DJ Jean & Peran Killer Mix) - Big dancefloor breaker
What have been your most memorable record finds? Any good stories?
I recently bought the vinyl of D:Ream called Blame It On Me. The "A Club Dub By Tin Tin Out" version is for me one of my best closing tracks I have so far.
Who are the artists and DJ's you think deserve more attention than they get currently?
Few artists that I really love lately:
Remotif: Amazing DJ and producer, big releases incoming. Really think that he deserves more visibility than he does now
Aldonna: rising star from Australia, very very good progressive house producer
Maruwa: Love her productions and sets - bringing some diversity in the progressive world in terms of selection, not only playing recently released tracks
Tell us about your shows on Protocole Radio
I host a radio show on the french radio Protocole Radio with some very good friends Antoine "Arvè" and Antoine "Bri". We invite artists that we love from all around the world
How did you get started and how have the shows evolved?
We started to invite local guys from France and quickly extended our search to rising foreign DJs
What has been the most rewarding part of running the shows?
Well it's a very good way to meet some amazing artists online and to discover some new music
Did DJing eventually turn your attention into making music or was it always there right from the beginning?
I started by producing some music and DJing came naturally few years after
How have you evolved as a producer?
I started with EDM stuff, then deep house music, then some break minimal things, then italo disco and now I think I really found what I really like to produce: a mix between progressive house/trance, electro and breakbeat.
Out of your own releases, which do you have the strongest bond with and why is that?
Definitely with my last one on Radiant Records. This release is really representing what I love to produce and mix right now.
What does the coming 12 months hold for you in regards of releases, collaborations etc.?
I have at the moment one digital EP on Slam City Jams with 1 Running remix that is planned in may 26th 2023, one track on a vinyl VA in summer and one vinyl EP with 2 remixes in october/november 2023.
I also got a 3 track EP ready to be released with a potential remix and I'm currently working on another one.
What's your setup like and how do you work on music (process, themes, details)?
So I currently have:
- 2 x Focal Shape 65 with Isoacoustics stands,
- 1 x Komplete Audio 6 soundcard that I'll soon switch with a Volt 276 ou 476
- 1 x Soundcraft Signature MTK12 mixer
- 1 x Roland TR8s
- 1 x Roland TB3 (damaged unfortunately)
- 1 x Prophet REV-2
- 1 x Roland VT-4 vocoder with 1 x Shure SM58 mic
But I essentially produce on VST with a Akai MPK mini MIDI keyboard and FL Studio.
So the livesets, I assume you leave a lot of room for improvisation. How has your liveset evolved during the years and how does it work currently? Please go into details :)
For the Flying Structures live show that I have with Pepe Elle, even if all the patterns, sequences, loops and tracklist are defined before the shows, we do have a lot of room to improvise since we control most of it.
We started with a TR8, 2xTB3, Microkorg and MPC1000 and we upgraded each machine (apart from the 2xTB3) with a MPC Live instead of the MPC1000 and a TR8s to replace the TR8 for example. Most of the upgrades were made to have richer tracks.
Currently, the MPC live sends the master clock through midi to all the other synths.
What have been the most rewarding parts of playing live?
People react whenever you move a fader or push a button, I just love it! That is why I love to have maximum control on the live performance and the automation or pre-recorded full sample, especially regarding the drums!
What's your take on the current state of electronic music?
I think that the scene is going well at the moment! Lots of beautiful music is being released every day and I feel that people are getting more and more interested in underground electronic music, at least in Paris.
What's the scene like in Paris today?
Very diverse. In Paris, the progressive vibe is rising more and more and I love it!
Can you name a few local acts, events or locations that should be on people's radar?
Radio Pirate - one of the best events near Paris. Mostly minimal / electro / progressive stuffs and great lineup. Really like the atmosphere, the organization and the place. The capacity is limited to 200 and the population is nice! Soundsystem is great as well!
Hors-sol collective parties - really appreciate their choice of booking as they bring some progressive house & trance artists that I love in Paris.
So the mix, can you tell us a little something about that?
A mix of new and old school tracks that I love. Very proggy, between house and trance and some little surprises including a future release.
Many thanks, anything else?
Thanks so much for having me there Timo! Looking forward to dancing together at Love International! (Ed note: Going to be good!)
playlist
Eversines - New Place [Nous'klaer]
Deep Piece - Towart (Loud Bass Mix) [Limbo]
Aldonna - Inner Elation [Semi Delicious]
Nicolas Duque - The Unforbidden track [Situ-888]
Obsession Project - The Dream [Great Asset]
NairLess – ID [TBA]
Spray - Slipped [Kalahari Oyster Cult]
Solar Suite - Magic Carpet (Guy Contact Remix) [Self-Release]
Porn Kings - Up To No Good (DJ Quicksilver Remix) [Submarine]
Jaimy & Kenny D. – Rush Hour [Widlife]
DJ Who - I Like It (Pepe Elle Remix)[3 Feet Deep]
Hysteric Ego - Time To Get Back (Ruff Driverz Mix)[Ego Records]
Running Hot – Boom [Self-Release]
Biodive - Ego Cheque [Gestalt]
DJ profile
NairLess
Location: Paris, France
Instagram | Soundcloud
Born in Vietnam, raised in France. NairLess is an assiduous producer, DJ, live performer and pianist.
Before his electronic music journey, he studied and learnt to master the piano at the age of 4.
He moved on to electronic music in 2017 by starting the production of dreamy house music. He also integrated the collective "L'Appart Music" with which he had his first mixes.
In 2018, he co-founded the label "Aurore 404" which organized and still organizes parties in notorious Parisians clubs such as Nouveau Casino, NF-34 & Garage and released rising artists such as Gallegos and Pépé Elle and confirmed ones such as Ian Pooley.
In 2022, his music has evolved to fast paced but still smooth and hovering electronic music with a firm inspiration on old school 90's early trance, balearic and progressive house.
He is currently released on labels such as Increase The Groove, Chikyu-u Records, Aurore 404 & Nerang Recordings.
More releases are coming soon in 2023.