Domenic Cappello is described locally and known globally as a creative visionary, a ground-breaking electronic music icon, a world-class DJ, a master of his underground trade and a true ambassador of his native Glasgow. As one-half of Subculture (with Harri), someone who has been holding down a Sub Club residency for a quarter of a century needs little introduction. Needless to say, I'm in super happy to have the pleasure to have him on board.

The set is a special one too. A 90 minute recording of Domenic's live set at "We're Going Deep" night hosted by Placid and Owain K in November '22 at the Love Inn in Bristol.
Hi there Domenic, can you introduce yourself briefly to our listeners?
I'm a resident Dj at the Sub Club in Glasgow, owner of 7th Sign recordings, a producer, father of two maniacs and lover of music
What's been keeping you busy of late?
I've been trying to work on my album which has actually been going well lately but no doubt i'll hate everything ive done in a few weeks and scrap the whole thing again.
Let's start from the very beginning, do you have any fond musical memories from your childhood?
Yes. Like a lot of people, my parents had music on a lot when I was growing up.
Apparently my grandmother had a party piece when I was about 3 or 4 years old, I'd been playing away quite happily and she'd put a sad song on and watch me stop playing and get upset and need a hug from her.

To be fair I'm still a bit like that :)
What drove you to dance music in the first place?
The electro compilations in the early 80's changed my life and introduced me to music made by men and machines
What about DJ'ing, and how did you get started?
I started djing when I was 17 in a blues bar, then acid house came out in the UK and changed everything
Name a few records or songs that had a big impact on you in your early days and why?
Aleem - Release Yourself on one of the above mentioned electro comps. I just loved Leroy Burgess' vocals on it and played it endlessly.
HASHIM - Al Naayfish (The Soul). Again another classic electro track from the early 80's. It sounded like music from outer space back then.


Do you have any memorable experiences from your early days as a DJ?
I remember playing at an after party in Loch Lomond and there was a really big crowd there. I was really nervous but the smoke machine broke and they couldn't get it to stop pumping smoke out.
I lost visibility of the crowd and because of that I just relaxed and played like I was in my own bedroom, it ended up a great night and made me realise a lot of playing well is just trying to control your nerves in a positive way.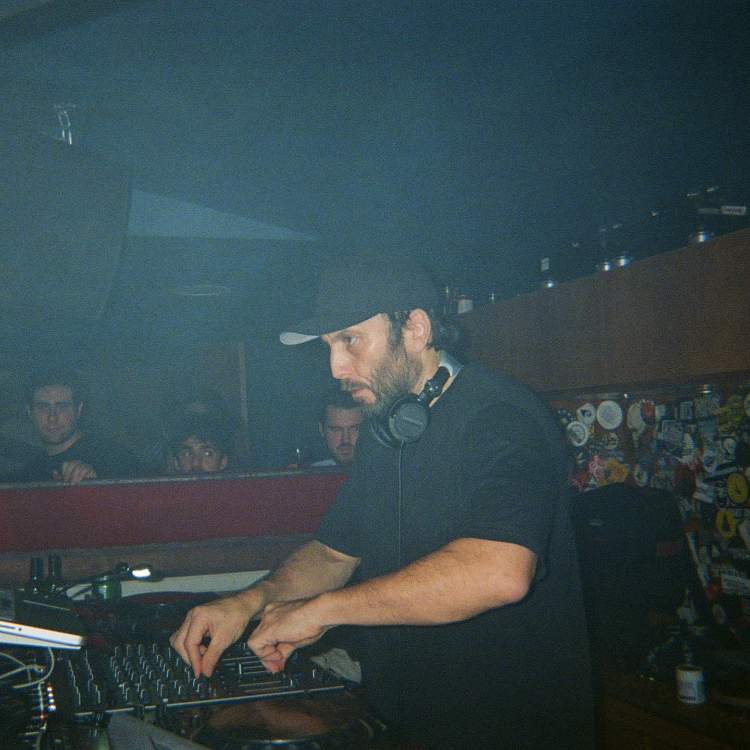 As a DJ, you're known for your extensive knowledge of music. How has your collection expanded over the years - is your approach systematic or organic?
My collection started off systematic. I have mine in sections: Detroit section, Chicago, New York, UK, Dutch, Italian, German, Disco, albums, Hip Hop, Ambient etc

But when I'm on my decks and playing and start looking for certain tracks, I pull them out play them, then don't put them back where I got them, so it can end up a mix of systematic and organic although organised chaos would maybe be a better description
When you select records for your sets, what's your approach like?
I try and play as much new stuff as I can then ill fill in the spaces with older stuff that fits. The older stuff can be just a few weeks old or decades. It doesn't matter as long as they still sound fresh
As someone who's DJ'ing career spans three decades you must have more than a few good stories to share from the club nights or festivals when you were DJ'
Honestly i'd be here all day and ive still got the kids dinner to make, I'll tell you some over a beer one day.
It's my understanding that you are an avid vinyl fan and record collector. Tell us a little about how you go about finding records to buy?
I started collecting when i was 14, by the time I was in my 20's it was a full blown addiction. I'd go into the record shop every day and listen to everything that came in that day and put what i liked in a bag or sometimes 2 bags :) Then on a saturday I'd go into the shop and sign over my wages cheque for the week to the record shop and leave with the bags.
I don't buy as much vinyl now because
my wife would kill me
I have ran out of space
Digital is a lot less expensive I still buy vinyl but only if I can't get a digital copy of it.
Name three to five secret weapons that you almost every time carry in your bag?
This changes every other week but there's probably always something in my bag from Carl Craig, U.R, Larry Heard, Moodymann, Gerard Hanson and Steve Rachmad
Name five tracks or releases that are currently on heavy rotation?
Indio – Phoenix (E.R.P. Remix)

Voiski - Super Blue Blood Moon [CRF014]

Who are the artists and DJ's you think deserve more attention than they get currently?
What's your take on the current state of electronic music?
It's a mixture of positives and negatives. The music business has always had its fake side to it and I definitely think that's creeped into underground electronic music. There seems to be a lot of hype before talent.
I was speaking to a guy who's a promoter in London and when he puts on Djs without big insta on soundcloud followings, no matter how good they are they just won't sell tickets. Fewer people buy tickets because the Dj is technically a great dj or plays great music. Media presence around their name is what generally sells these days, especially in the bigger events.
On the positive It's good that it's finally becoming more diverse but there's still a long way to go on that too.
You have been running the Subculture night with Harri at the Sub Club in Glasgow since 1994. To say that's quite a feat is an understatement. What has been the most rewarding part of running the club night?
Watching people dance and lose themselves in music, seeing them happy and bringing them together to share in a love of music.


Pick one very special Subculture night and tell us a story behind it, please?
Lil' Louis playing an hour of his own unreleased productions was up there, people were losing their minds. He asked if we were recording his set, when we said no, he brought this other record bag out.
It had all his unreleased music and he just played the most mind blowing stuff that we'd never heard and will probably never hear again.
So the set, can you tell us a little about it - it was recorded at the "We're Going Deep" event, hosted at The Love Inn in November in Bristol?
Yes. Owain did a great job of setting the mood and I just tried to follow what they did but notch it up bit by bit. It's got energy but its still pretty musical and soulful.
playlist
John Shima - Connection
Dick Emery - First Light
Envoy - Acres Of Space
Matthias Vogt - Maintain (Vince Watson Rmx)
Ron Allen - Love Myself
Obergman - Alice Matter
Rocco Universal - Assuage
Vernon Felicity - Alternate
Deep88 - S2000
Carbon - Vince Watson Remix
Roberto Bosco - Trust
Mr G - G's Strings
Luke Hess - Dwelling Place
Sakdat And Balaur - Saver
Carl Craig - Sandstorms
Roberto Bosco - See The Light
Imperieux - Ferishtah
Lionel Weets - Aurora
Brian Kage - Learn To Surrender
Dj Deep - Steve Rachmad Rmx - Surge
Brian Kage Hang - On The Pain Ends
DJ profile
Domenic Cappello
Location: Glasgow, UK
Sub Club | Soundcloud
Domenic Capello has maintained his weekly Saturday Subculture residency, the flagship night at Glasgow's Sub Club, since 1994.