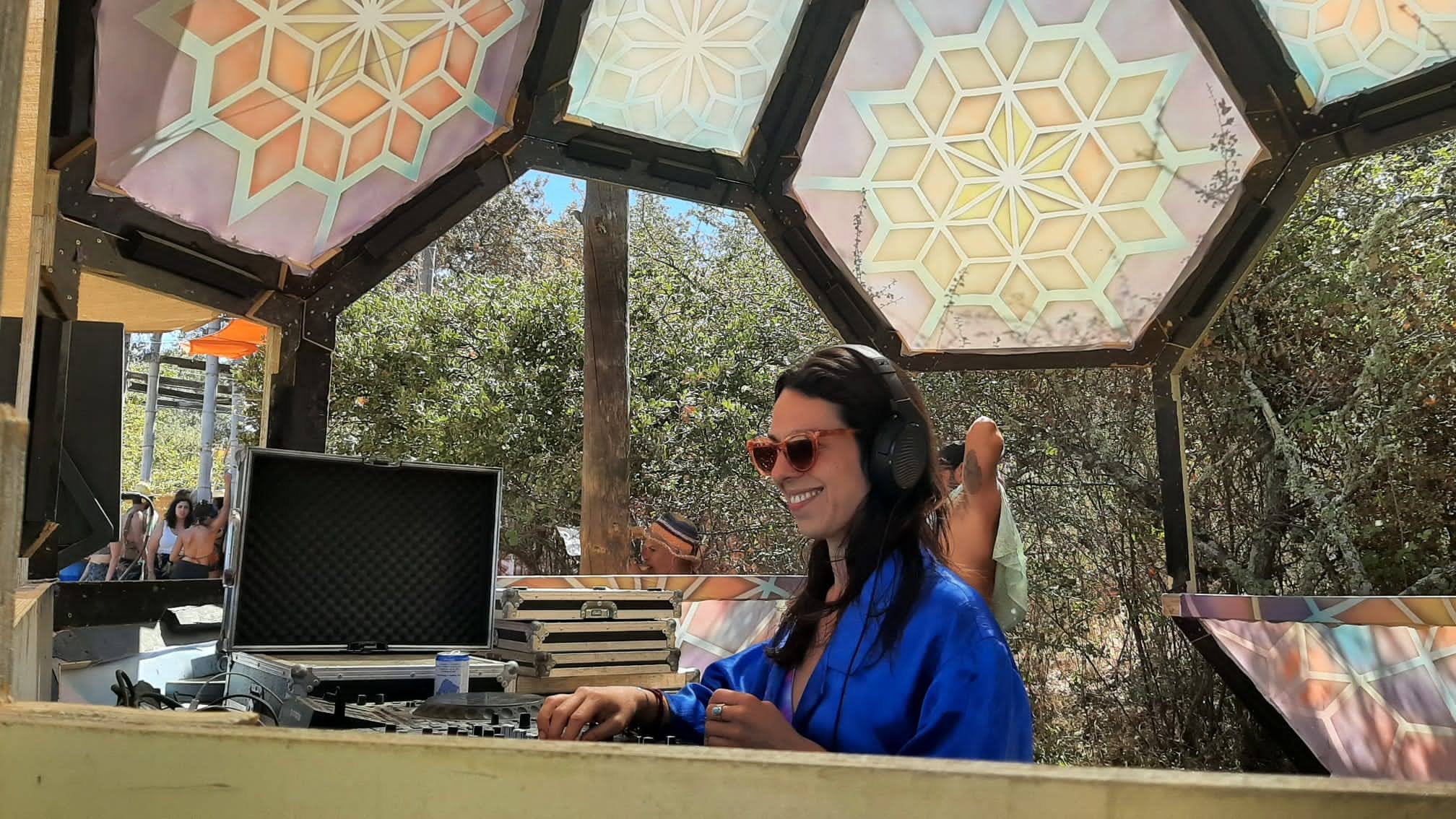 While the name Mayan may already ring a bell to many, there are still plenty who have yet to experience her genre-crossing and cosmic sets that are truly top drawer. With a refreshing and positive approach to music, Mayan is exactly what the world needs more of. Don't miss the chance to get to know this talented artist better - it won't be long before she's a household name.
Hi there, how's things? Can you introduce yourself briefly to our listeners?
My name is Rita, and I currently live in Lisbon. From a young age, I grew up in a family of musicians and was fortunate enough to experience the deep bond that music creates. My mother was a singer and composer, so I always felt at home in a music studio.
To this day, my desire to share music is fueled by the wish to connect with others, whether it be through therapy or visual arts. For the last 10 years, I have been focusing on developing my skills as a DJ and recently started producing music as well. Some of my work as an independent artist can be found on Bandcamp. I have also been focused on building connections within the international community because I love to travel and network.

My dream now is to delve even deeper into the electronic music world and explore my creative vein in music producing.

What's been keeping you busy of late - you're both a DJ and a producer?
Yesse, I'm always trying to balance between them, but it's very difficult to make a living solely as an artist here. Therefore, my time is divided among gigs (DJing), work as an osteopath, and whenever I have some free time, I delve into Ableton's world.
Recently, I have been quite busy managing my life to go to Berlin and study "Advanced Sound Design" in Catalyst Funkhaus. I applied to them and was accepted, so I will be moving to another city in June. It will be a significant change, but I am looking forward to learning more about sound production and growing as an artist.
Do you have any fond musical memories from your childhood?
Uff, absolutely yesse! My mother told me the story of putting headphones on her belly when she was pregnant with me, mainly opera and classical music. So I've been listening to music since I was in my mother's womb. Then, in the 90s, with all the adult problems and confusion, everything was solved with lullabies, jazz, American rock, or simply music that she composed. Unfortunately, she is no longer here to appreciate what I have been doing thanks to her.
What drove you to electronic music in the first place?
Teenage things!! I started going out with friends when I was 16 years old, and even though it was not until late, I remember the feeling of my body moving and dancing to those beats, and it felt really good. The other reason for my interest in digging vinyl was that I never learned to play any instruments. Unfortunately, when my mother taught me to play the guitar, my fingers hurt, so I quit immediately. I would love to learn to play the piano, maybe one day.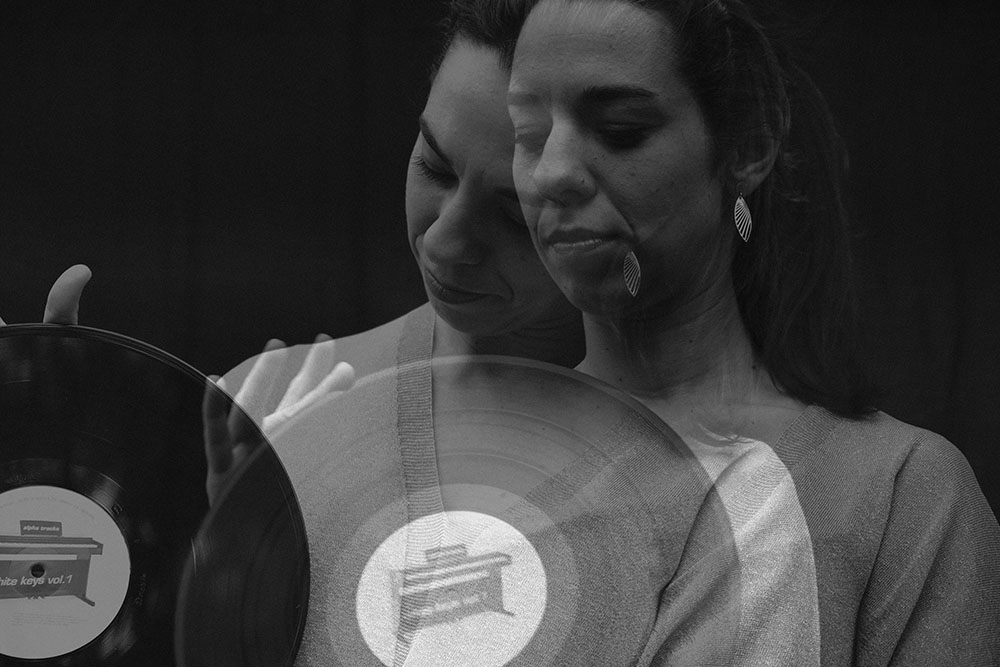 What about DJ'ing, and how did you get started?
Seeing a friend DJing back in 2013, and asked her to teach me! Then we started to play together, with another VJ artist (Mavery project). Immediately felt that it would be the beginning of a real love 🙂
Name a few records or songs that had a big impact on you in your early days and why?
Early days, for sure some classics like Joycelyn Brown, Jean Knight, Womack, the power of black female voice had a real impact on me. Because my mother was always singing, I was imitating her, and at that time there was a lot of American music. She was not an electronic music fan. Simon and Garfunkel, Beatles, Eric Clapton, Bryan Adams, still have these/her vinyls.
You are an avid vinyl fan and record collector. Tell us a little about your collection and how you go about finding records to buy?
My collection started with my mother's small vinyl collection, and then my discoveries in second hand record shops. I still love doing that when I'm travelling. Spending some hours diggin' it in what people don't want anymore, I discovered some gems.
Recently, I sold some of my first records (cause I realised that I wouldn't be playing them anymore) and started to buy some new records that are resonating with me, in these times. That is because I'm trying to do more and more hybrid sets - digital and vinyl, which feels really good.
As a DJ, you're known for your extensive knowledge of music - ranging from Jazz to techno to disco and everything in between. How has your collection expanded over the years - is your approach systematic or organic?
Completely organic and with a hand on my heart. Ever since I remember thinking about planning sets, the idea has always been to build a journey, and during my experience I felt that there is heterogeneity on the dance floor and that made me resort to different genres from my musical palette.
Essentially start in a slower wave and end up with a higher energy; but it all depends on the place, the party and the people I have in front of me. if i start playing after a dj, I'll pay more attention to the genre of his last song and go with it - constant challenges of the moment, it's interesting that this is something that has been with me since the beginning of my (small) career.
Over the years I also felt more connected to different genres. I had a period of some internal revolt, and that made me look for more "aggressive" sounds as well. I look back and I don't abandon them because they are part of my process. The maturity I gain with this experience makes me more exigent in the choice of songs in each genre.
When you select records for your sets, what's your approach like?
I like to think about the environment of the party, the atmosphere I want to create, the DJs that are part of the lineup, and what I would like to hear if I were on the dancefloor.
Then when I am there, the choice is 'the moment', I look, feel and choose. Another important aspect, in theory, is seeing the keys - so I can fly through genres but with a look on the key tone. It has happened to me that I plan very well and get there and don't have the right conditions to do what I had planned. So I learned with it.
Do you have any good stories to share about the live shows or DJ'ing?
I love to see the smiles on people, or when they are dancing with their eyes closed too.
Name three to five secret weapons that you almost every time carry in your bag?
Ahahaha, I will keep it in secret Timo 🙂
What have been your most memorable record finds? Any good stories?
Some edits or white labels - like you go to Discogs and see the super high price, and you find a really good edit from a white label or other unknown label.
I have a really good vinyl edit from Underworld 'Born Slippy', an old vinyl of Eminem signed by him, found in a vintage store in bordeaux, Jestofunk 'Say it again' in Paris - I was with a friend one night in Paris, listening to some old funk classics, and we heard this song in a set and I was kind of hysterical with the song, and the next day we went for a walk and we entered a record store, and bang! The first record that came out in second hand boxes, it was this very vinyl, was like a message from universe.
In London i found some of my first house music passion - Fade (KimBlee), Kings of Tomorrow - Finally, Scott Grooves - Pieces of a dream.
Do you have a comfort record, one you can put on that makes you feel good no matter what?
Frédéric Chopin - The Nocturnes by Maria João Pires, live recital and Egberto Gismonti - Solo EP
I just need to ask, how's your vinyl record collection organised?
Hmm, sometimes it is a mess! But I make a mix, organising between genres and the time I found the music.
Name five tracks or releases that are currently on heavy rotation?
Ramu - Mist or Cloud [Magic Carpet]
Jorge Caiado & Paul Cut - Badu Badu [Inner Balance Rec]
Gabriola - Theta Flute [Magicwire]
Fragoso - Entropia [Home Made]
Bass Toast - Here I am [Cosmic Breeze Rec]
Who are the artists and DJ's you think deserve more attention than they get currently?
Larry Quest from France living in Lisbon.
Bass Toast half portuguese half Belgium, living in Belgium.
Miguel Cintra from Lisbon.
Tell us about your shows on Lusophonica Radio?
I run this radioshow in Lusophonica radio, in Cascais for 2 years and a half, and has been an amazing experience between me and my artists guests. All the stories that they share, and all the music that is shared there.
The opportunity to talk about different backgrounds from people is really inspiring, I love this part too, everybody has a past, and somehow we all ended up on this point of managing our music passion and will to work with music.
Here is the link for some of the shows that are uploaded and I have more audios too, in Mixcloud.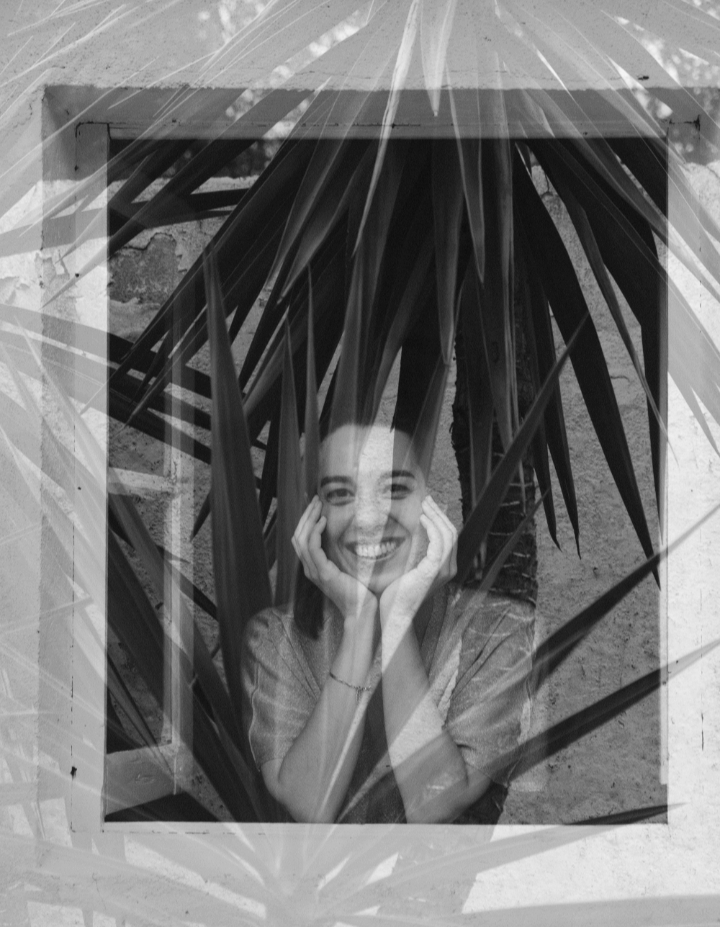 How did you get started and how have the shows evolved?
I started with a friend by an invitation of another friend, and when we got there, they just loved the vibe and asked us if we wanted to start a radioshow - we said yes, and then it was difficult to manage the show together, so I just kept going alone and with my vision of artists. I'm so glad for this opportunity, because I have the chance to work with music and people in another way.
For a long term goal, I like to see and think that I don't depend only on gigs, because that does not always happen, so to keep my motivation up, it's really important to have other music projects. In the beginning when I invited an artist, I was embarrassed to speak into the microphone and my wish was that the airtime would go to the artist, nowadays I spend more time in conversation, thank god!
What has been the most rewarding part of running the shows?
Listening to others, to know about other people's stories and music path.
And learning music culture, or new songs.
Another interesting thing is that I could play in another country because I invited an artist that was on vacation in Portugal, and he loved the vibe so much that invited me to another radio show in the Netherlands.
Any plans for the coming months?
Continue to invite more artists who have had or are having an impact on Portuguese music culture.
Did DJing eventually turn your attention into making music or was it always there right from the beginning?
Oh yesse! I never really thought that I would have the necessary skills to produce music.
The first time someone showed me Ableton (in 2013/2014), I spent a whole afternoon making 1 or 2 minutes something, and I just gave up (laughs). Nowadays, I am not a professional, but it is one of my goals for 2023 - to develop more production skills.
I feel like there is a lot of stuff in here to be explored , and I'm looking forward to move to Berlin to learn more about it in school.
How have you evolved as a producer?
In 2019 I knew about the Beats by Girlz project, and because it was by donation, I started to go every week - then COVID arrived, and I started to create things at home alone. Learned with friends and sometimes tutorials too, but I don't have much patience to watch videos for a long time.
Last year I bought a TR-8 and a TD3 Behringer, so my mood now is more developing music with machines. But I still can't afford a lot.. So, step by step!
Are there any new tools or musicians or artists who have recently inspired you?
Yes, seeing my friends doing it, me trying and failing, knowing more about effects, and the magic of Arpeggiator.
I have a lot of inspirations from artists, but I still do not know how to create sounds like they do, but I don't pressure myself or rush, I believe one day I will know how, or if not, I'll be the messenger - delivering their sounds on my dj sets. You need time and resilience to make better and more music, and I hope I will achieve that this year, or next.
I've been working in some collaborations with friends that are producers in order to create more things as I imagined, cause I'm still in the process of learning and want to achieve more skills and tools.
Out of your own releases, which do you have the strongest bond with and why is that?
What I call, cosmic space music - it makes me daydream, it gives peace and energy.
Labels like Coymix, Magicwire, Gestalt, Home Made, Carpet and Snares, Butter Side Up, Phonic House, Neotropiq, are a must follow for me.
My first rave was a psytrance openair party, and I tought I didn't ike trance music, but there's a lot of math and patterns on it, you just have to open your heart and mind to discover it.
So every time I listen a trancy element, I have a little bit of goosebumps and it doesn't need to be high BPM, for a lovely journey.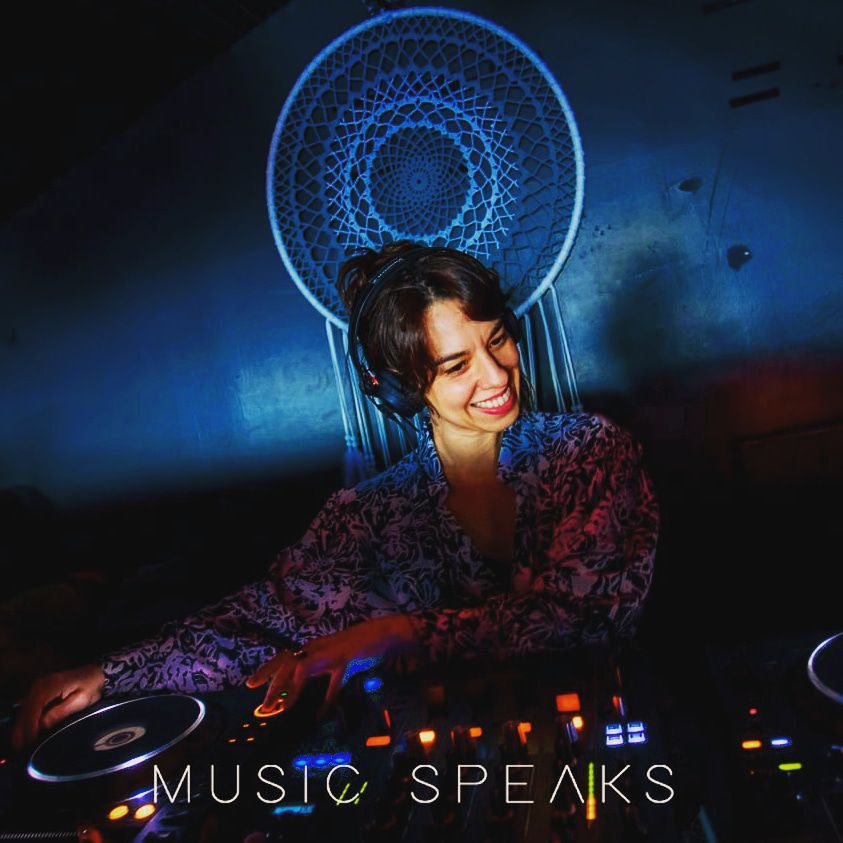 What do the coming 12 months hold for you in regards of releases, collaborations etc.?
I'm working right now with 3 friends that are producers, Doktor J aka Jeremias a brazilian Dj and producer living in Lisbon, where he helped me finishing my first Spotify released recording the bassline and acid synth and mastered 'Sunbass', Miguel Cintra, a long time friend and producer, we are trying to create this dreamy space sounds that we love, and António Castro, a guitar and bass player that starts to make really difference in electronic music culture here in Lisbon.
Meanwhile I have also decided to bring the female pressure project existing in Europe and it's spread all over the world (in about 85 countries) to Portugal - we will have the first showcase on february 25th. Female Pressure Portugal will be promoting artistic and musical events, podcasts, talks and activities that will support the artists within our community who will become a part of a larger international network.
The aim is to work alongside a wide network of partners and sponsors, in order to develop an educational program and an archive where we will document all the work that has been done. So a lot of musical work for 2023, and I couldn't be more happy.
What's your setup like and how do you work on music (process, themes, details)?
It's weird, but I feel I want to create a track/project in each genre, maybe it's because of this feeling of a beginner producer, but I will do whatever it hits me in my brain and heart. In May I go to an artist residency in Germany, to explore more sounds and have the opportunity to put out emotions and put them in music. I'm happy with my TR-8 and TD3, but I want to have another machine with some samples, to recreate pads and ambiences for example. Still on that research, I feel it's more organic doing with machines then with my mouse and Ableton.
Sometimes I wake up with a melody, but because I don't know how to play piano, I have this limitation. Music theory is also important in this process and I miss that. In the past, my family didn't want me to go to music or arts fields, because they knew that would be a world of difficulties and challenges, so I studied healthcare, I'm an osteopath and a radiographer, but my heart spoke lowder, a little bit late, but somebody said, it's never too late to do what you love more.
So the mix, can you tell us a little something about that?
Someone also said that a picture can be worth more than a thousand words, so I leave this statement so that my set can also be worth more than a thousand words. Luckily I know that an artist/DJ goes through many inner and outer processes, it's not static, and whoever says the opposite I won't be against, but usually the process is long and hard.
It's a big exposure when you play and share music with lots of people, it's a learning about feelings and acceptance. I would say vulnerability, growth, maturity and empowerment. At least that's what I've been feeling all these years, where there is a huge willingness of people to label the music and the artists and have confronted me with this question.
For me it has been about quality and not quantity, so I take this characteristic of mine to like to work with more than one genre, and I see myself one day playing for a big festival, and not just a party that portrays only one genre, and exists for a certain audience. It cost me to come to this point assertively, but here I am, dismissed by preconceptions and with the truth in my mouth.
Many thanks, anything else?
It's a pleasure and a proud to answer these questions coming from you. I'm really a fan of your curacy/work in music, and sometimes it's hard to speak the same language without words, and you heard me. Thank you Timo for this opportunity, and may more future dreams come true, here in Lisbon, or anywhere in Europe, or somewhere in the world perhaps! Let there be always music between us, as my mother's song said!
playlist
Yorbalinda Breaks - Liquid Earth
Spacey (Doctor Jeep Remix) - Bell Curve
Flashpoint (Original Mix)- Slav Ka, Eric Shans
Star Alliance - S-Range
PDR Bonus track 2 - Freaks Of Science
Treptat Tripat (Dkatt , Nic David Remix) -DubluD
Fade Away - Ilyes
Music Call - Man/ipulate
Soma - Dylan Forbes
Ophra (El Greco's Eastern Mix) - G.Pal
Lost - Anatolian Weapons
It's Not a Mindtrip - Man/ipulate
Alpha - Fantastic Man
Origins - dot13
Black Swan - Cristi Cons
Solaris - Camelia
Mahelle - Mike D
D I N & iOAN - Mantra
Astrolabio - Jamahr
Radiant Reality - Bliss inc.
DJ profile
Mayan
Location: Lisbon, Portugal
Linktree | Soundcloud
Influenced by her Lisbon upbringing amongst musicians and by all the variety of music she has absorbed, her DJ sets want to take you on a journey through emotions that can come from any corner of the musical universe.