Teresa and Lucía, the Spanish-born/Melbourne-based DJ duo have made quite the splash since uniting under their Olivas project. Passionate about records and widely known for playing all-vinyl sets, they've quickly become a staple of the local music scene.
When they're not spinning wax at venues all around the city, they keep busy with running two of their own radio shows, Deep Digging on KISS FM (which recently featured an Echocentric showcase mix - thanks for that!) and Wax Paradox on Hope St. Radio. They also curate parties under their Wax Paradox banner as well as Winyl - a party pairing for lovers of wine and vinyl.
The mix is an spot-on representation of their approach - deep atmospheric electronics across a genre palettte.
Can you introduce yourself briefly to our listeners?
We met back in 2016 in a club in the city (Melbourne) and ever since we've shared our passion for music. We learnt to dj together, lived together and influenced each other quite a lot!
Being both from Spain and sharing the same language and culture has definitely been key to be able to work well together as a dj duo and read each other's energy. With time, we have been able to adapt to each other much better! We have creative backgrounds and jobs, and dj-ing is another outlet to our creativity.
What's been keeping you busy of late - you're both DJ's and budding producers?
Since we got back from Europe last October, we've been playing a few gigs nearly every weekend, running our own local events (Winyl - strictly vinyl parties, Body High - groovy sounds) and running a radio show every week which takes up most of our time! We have got into the analogue synths world, and are currently starting our music production path! Looking ahead, we're planning to launch our own record label within the next year.
Do you have any fond musical memories from your childhood?
We both have older brothers, and we grew up in the 90's -00's listening to eurodance and european electronic music from that time.
What drove you to electronic music in the first place?
The dancefloor!
What about DJ'ing, and how did you get started?
We had a couple of DJ friends who shared their passion with us and guided us through our first steps of DJing.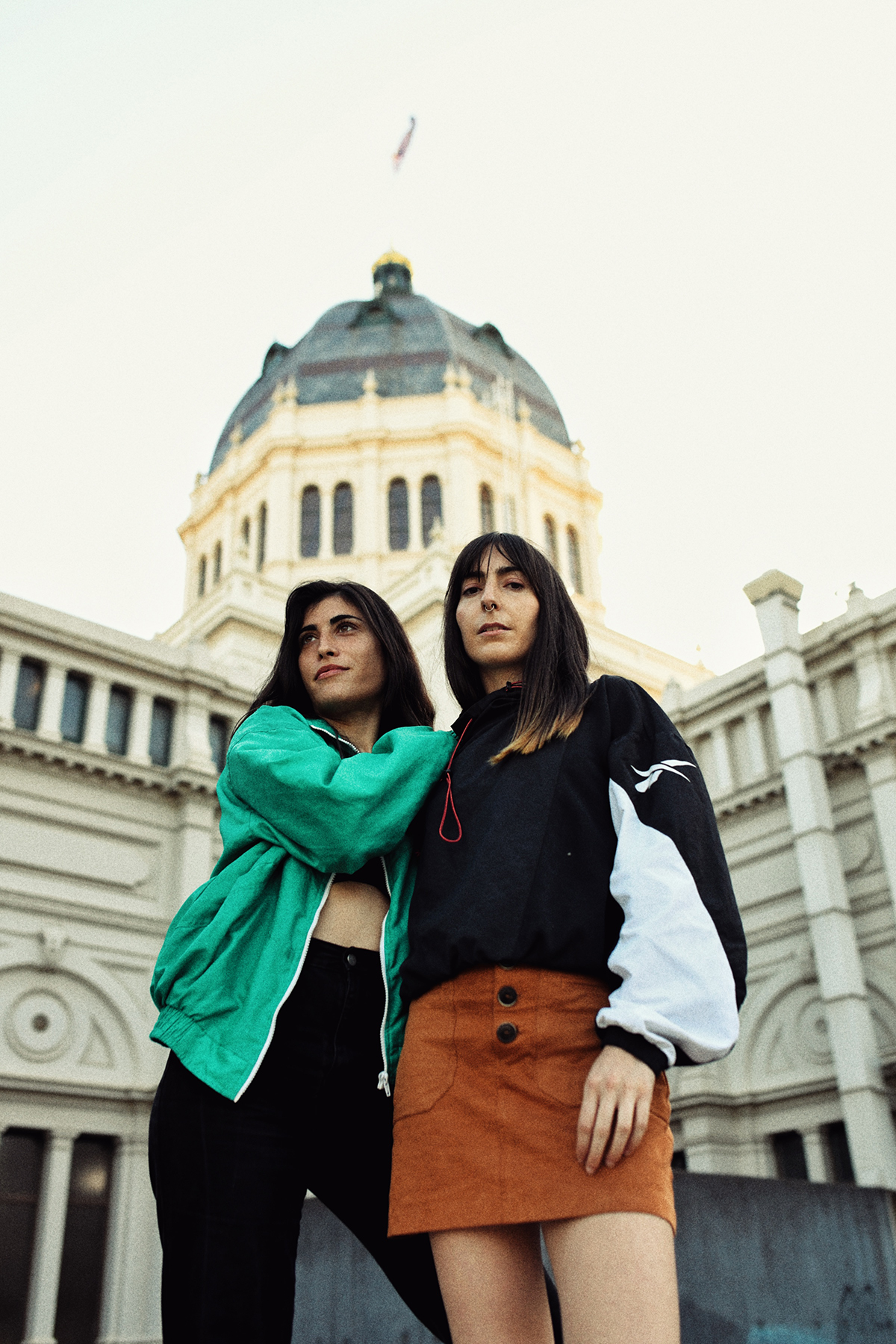 Name a few records or songs that had a big impact on you in your early days and why?
Oh-Ah by Metatron, Sometimes I Hear Sirens by Raär and The Age of Love by The Age of Love, probably because our biggest influence when we started dj-ing was our dj friend Phunk Phernandez, who used to play those tracks in a lot of the raves and warehouse parties back in the day.
Do you have any memorable experiences to share from your early days as DJ's?
The second time we played together was just before the lockdown and at the best stage we could have, a beach rave at the bay. We were invited by the Toast collective which brought the best vibes and by the end of the day we had people dancing all around us and even up on the rocks.
You are avid vinyl fans and record collectors. Tell us a little about your collection and how you go about finding records to buy?
We used to live together, and when a friend of mine [Teresa] sold me his nearly-new pair of Technics we both started digging in the local record stores, skimming through records over various genres.
With time, we both have refined our musical tastebuds and currently, since the pandemic, most of our digging is on online record stores! Digging at any time of the day works better with our busy schedules. We follow labels on various platforms, but we mainly dig on Discogs to find music related to our collection.
When you select records for your sets, what's your approach like?
We do have a brief chat of the genres we're aiming to play at that set. However, we enjoy improvising and pick our next track following the dancefloor and each other vibes.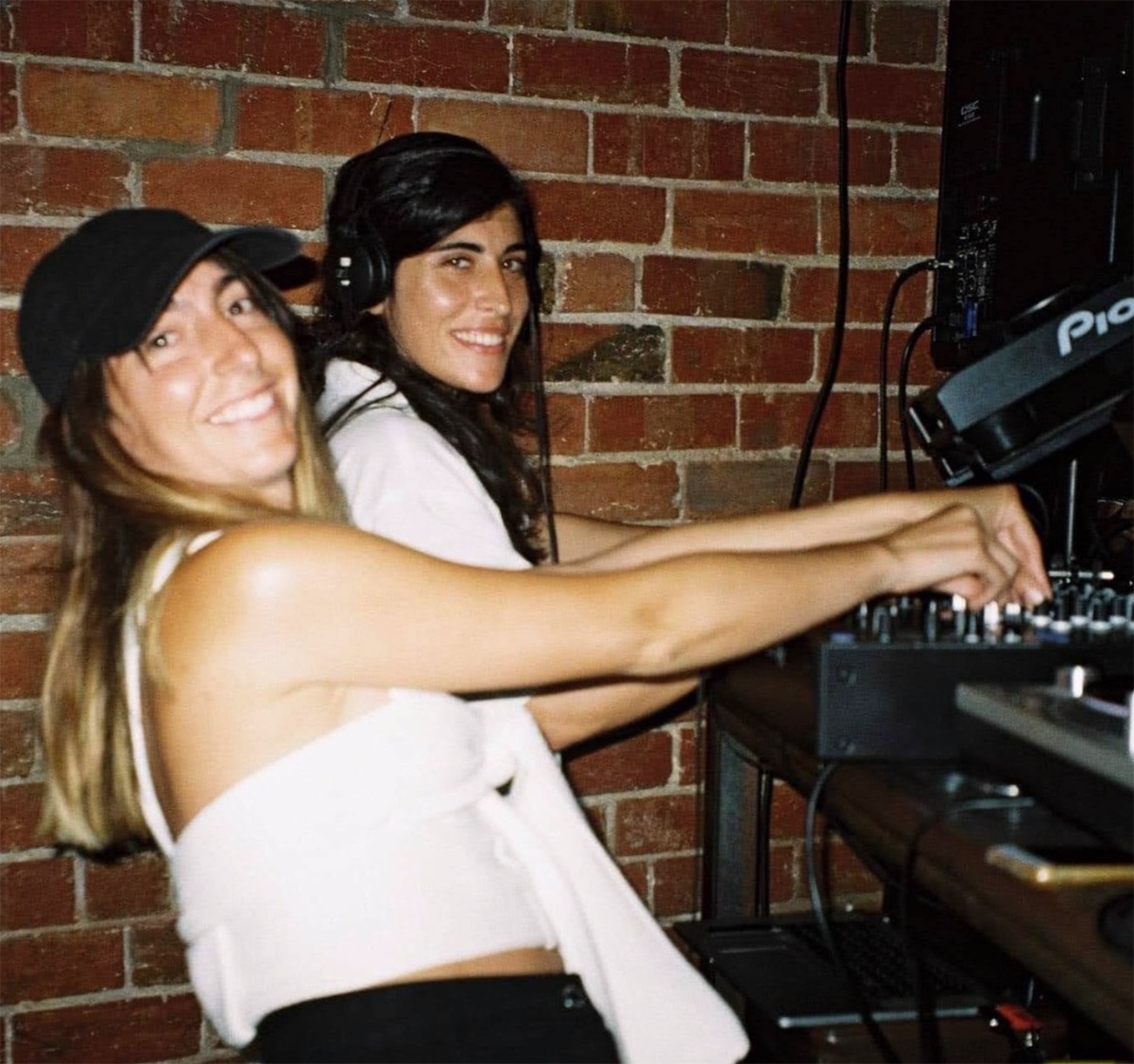 Do you have any good stories to share about the live shows or DJ'ing?
We were recently invited to play in the side room for a techno event, and, at one point, we realised we stole the dancefloor from the main room!
What have been your most memorable record finds? Any good stories?
Digging records in Paris! Not particularly for a record, but for the quality of second-hand records!
Do you have a comfort record, one you can put on that makes you feel good no matter what?
Recently, we got our hands on the reissue of several records from DJ Healer. Playing them at home with the lights dimmed does makes you feel good and heals your soul.
I just need to ask, how's your vinyl record collection organised?
Ha-ha! I [Teresa] add the year, genres (and feel) and BPMs to my records, then I organise them by genres, from heavy-er/faster to slower/lighter feeling tracks. I [Lucia] am a bit less organised, I focus on the year and genres and have just a feel of slower and faster tracks by memory!
Name five tracks or releases that are currently on heavy rotation?
A few releases from Transmigration Records (hot label!), Fantastic Man on Kalahari Oyster Cult, Dj Steve - Reality EP, Eluize - Gone EP, Radioactive Man - Uranium and a few of Lake Haze's releases.
Who are the artists and DJ's you think deserve more attention than they get currently?
Tell us about your show on KissFM Australia?
We try to keep the show dynamic by featuring a mix of new and older music and by inviting local artists and promoters. When we have guests on the show, we take the opportunity to have brief interviews and learn about their passions and creative drive.
We also love to hear a good party story from them!
How did you get started and how have the shows evolved?
We started with little or no experience in the radio format, so it has been a fun journey to discover our unique approach. The vision of the show have remained the same, but we have evolved in terms of how we operate in the studio, how we create a flow for the show, and how we communicate through the microphone. It's an ongoing learning process, and we're excited to see where it takes us next.
What has been the most rewarding part of running the shows?
It feels great when people hit us up asking for the names of tracks we played on the show. It's like we're connecting with our listeners on a personal level and that's so awesome. Interacting with "the other side" of the mic is definitely one of the most rewarding parts of doing what we do, and we're grateful for every person who tunes in."
Let's talk about Melbourne. Can you talk about your beginnings?
Melbourne is such vibrant city, there's always something new and interesting to experience. The community here is super creative and diverse, and we love being a part of it.
We've had some amazing opportunities to explore and discover the DJ world, and we're grateful for it. Last year, we had the chance to go back to our home country, Spain, and DJ at a few parties over there, including organising events with the Casa Pangea crew.
Playing where we used to party when we were younger felt like coming full circle, and it was such a heartwarming experience.
So the mix, can you tell us a little something about that?
This mix mirrors our current search for deeper sounds. It's more dubby than our usual mixes actually! The last summer in Europe was a big influence on us, and this mix is a reflection of that.
Many thanks, anything else?
Thank you for inviting us to do this mix!
playlist
Tagliabue - Profonda Pulsione
Stevia - Little Comets
Midnight Tenderness - Catamaran (Hame DJ's Boof Mix)
Layered Moons - Z
HVL - Lush Breeze
As One - Destination Other
Nathan Boost - Cloning Boost
Fantastic Man - Bioxy
Biodive - Tribal en vogue
CT Kidobo - Striving for perfection
Miles Mercer - Time Ahead
Neotex - The awakening
Generali Minerali– Future
Elliptical Headz - the scenic root
Priori - Sour flower
Fader Cap - xenon
Hamatsuki - Shrink
RDS - Substance
Cleveland - golem
RTR - Phase 2
DJ profile
Olivas
Location: Melbourne, AUS
Instagram | Soundcloud
Teresa and Lucía are no stranger to the local scene in Melbourne, the Spanish-born / Melbourne-based DJ duo have made quite the splash since uniting under their Olivas project.
Passionate about records and widely known for playing all-vinyl sets, they've quickly become a staple of the local music scene.